AMPL Labs SmartBackpack taps into "smart" charging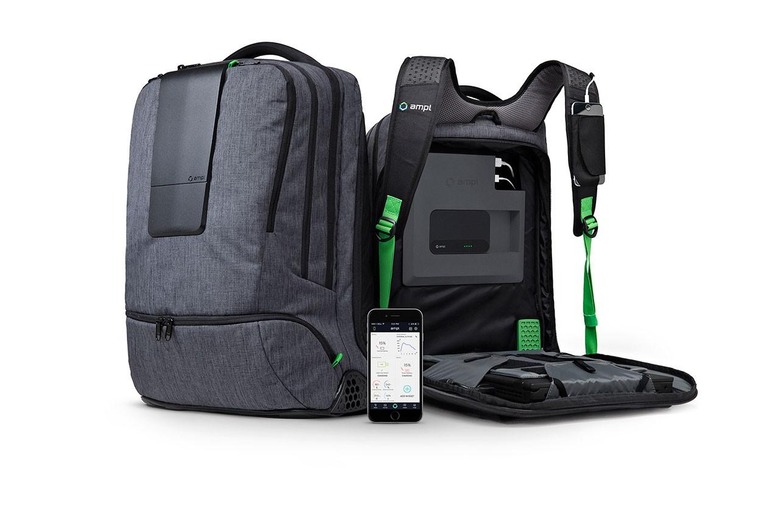 There've been backpacks in the past that had batteries inside them. Batteries that charge your devices while you're walking about, talking with your best pals, waiting for your smartphone to come back to full energy. What the folks at AMPL hope to do is make that process smarter. This backpack lets you know how far your charging has gone, which devices need more time, and what you're going to want to do in the way of prioritizing each device as they ramp up.
Up front you'll find a scratch-resistant molded nylon shell which houses an OLED display and as well as touch-friendly controls for system vital readouts.
Inside the bag you'll find seven USB connectors. These are all connected to an 18.5 watt-hour (Wh) battery which, if you only connect one smartphone, you'll be able to charge up fully between 2 and 3 times.
Inside the backpack you'll also have support for up to three modular SmartBatteries. Two sizes of battery are available, one in TabletBoost (another 18.5Whs), the other a LaptopBoost model (another 55Whs).
While AMPL suggests the LaptopBoost battery will charge most laptops "directly", they've also got a SmartInverter module with AC outlet available.
One backpack will be available for $299 USD. You'll find expansion SmartBatteries available for $59 for the TabletBoost model and $139 for the LaptopBoost model – or for $179 you'll get the SmartInverter as well.
This backpack will be shown off for the first time at CES 2015, and will be available soon thereafter.