Amped Wireless TAP-EX mixes WiFi extender and touchscreen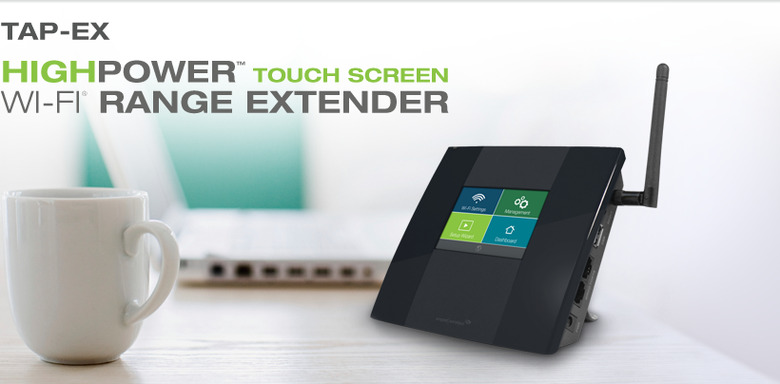 There was a time when homes would be serviced by a single modem cable, but now even a simple wireless router setup isn't enough anymore. Houses and buildings do not and cannot easily adapt to the growing number of devices in a given area, leading to weak signals and dead spots. While WiFi extenders do the job of giving your home network a needed boost, they need not be as drab as your router or modem. Enter TAP-EX from Amped Wireless, an extender that adds a bit of flair thanks to a touchscreen of its own.
While a touchscreen on something as utilitarian as a WiFi extender might not make sense immediately, it does have its purpose. The main benefit is that, with a touchscreen, you do not need to use a PC, laptop, tablet, or phone just to configure the box. You can do it right then and there with a simple tap. Of course, while there's a benefit to that, like when you don't have a computer at hand, most of the time it is actually more convenient to remotely configure the extender from a computer. The display does double as a digital clock when not in use, so you do get that feature for free.

As to the extending powers of the TAP-EX itself, Amped Wireless advertises that it can reach up to 10,000 sq. ft. thanks to a power output of 800 mW. Most extenders, according to the company, only use 50 mW, resulting in a relatively dismal 1,500 sq. ft. The impressive coverage is thanks to the device's two high-power amplifiers, two low-noise amplifiers, and a high-gain external antenna, all in a 5 x 5 inch box.
The TAP-EX's own software allows for many features, including access scheduling, blocking of devices by MAC address, guest networks, and power throttling. Outside of the extender, Amped Wireless also offers its free WiFi Analytics Tool app, available for free on Android and Windows, to give users a better overview of their networks.
The Amped Wireless TAP-EX WiFi Extender is currently on pre-order status from Amazon as well as Amped Wireless' own online store, with shipping noted to start November 10. It will also be available in physical stores as well as other online retailers in the coming weeks.
SOURCE: Amped Wireless