Amped Wireless boosts WiFi signals with two new USB adapters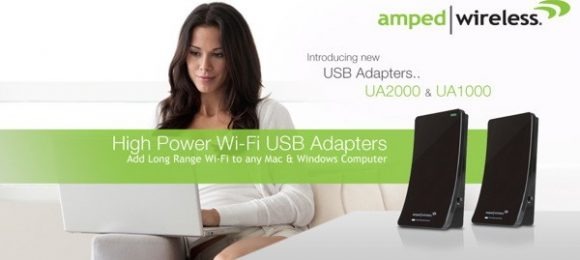 Amped Wireless has released two WiFi-boosting USB adapters, the UA1000 and the UA2000. The two models are high-power WiFi directional adapters that can handle high-speed access and extend the range of your wireless network by up to three times the distance of standard wireless adapters.
Amped Wireless claims that its UA1000 High Power Wireless-N 500mW Directional USB Adapter provides up to ten times the wireless output of standard wireless adapters. It has two high power 500mW amplifiers for increased transmit range, two low noise amplifiers for increased receiving capabilities, and a high gain 5dBi dual polarity, directional antenna for concentrated single direction WiFi signals.
The US2000 High Power Wireless-N Directional Dual Band USB Adapter delivers up to six times the wireless output power of standard adapters and operates in 2.4GHz and 5.0GHz modes. Its dual band technology avoids interference to ensure top speeds.
The adapters work with both PCs and Macs. The UA1000 is priced at $79.99, while the UA2000 is $99.99. Both are available now for pre-orders.
[via Engadget]