Amped Wireless announces the high-power TAN1 wifi adapter for Windows 8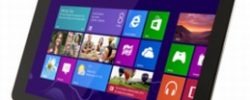 Amped Wireless has announced the launch of the world's first high-power wifi adapter for tablets, laptops, and ultrabooks running Windows 8, the TAN1. This adapter is purported to offer thrice the range and performance of your average everyday integrated wireless adapter. The TAN1 will be launched in "early 2013," which we assume to mean before March.
The adapter can be connected to either a micro or standard USB port, and is plug-and-play. Depending on the device it is being connected to, the TAN1 can be attached to a lid or chassis via a clip or can be left to lay flat. The clip is adjustable, and according to the announcement, can also be attached to tablet cases, such as a protective cover.
The TAN1 boasts a combination of low-noise amplifiers and high-power wifi amplifiers for improved wireless transmitting and receiving. The device utilizes high gain antennas, and in combination with the amplifiers, all ultimately come together to provide exceptional range when compared to what you get with embedded options.
Amped Wireless's CEO Jason Owen offered this statement. "With the TAN1, Windows 8 users can now have uncompromised long range Wi-Fi performance to connect to Wi-Fi networks from much greater distances. Home users can roam freely throughout their home without worrying about disconnects or buffering, while business users can connect to Wi-Fi hotspots with ease while at airports or hotels."