Amino Freedom Jump MeeGo STB promises to play nicely with operators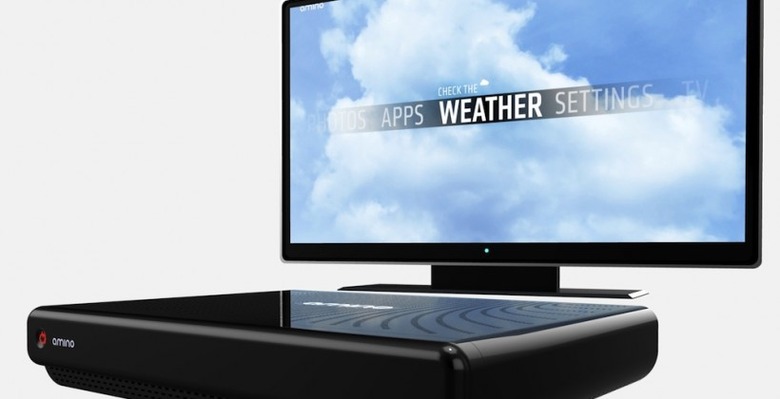 Streaming STBs like Logitech's Revue and the Boxee Box are hugely flexible, but as Google and other have discovered, content owners are turning out to be pretty cautious with who and what can access their multimedia. Amino reckon that's a gap in the market; its Freedom Jump uses the same Intel Atom CE4100 as the Revue and Boxee Box, topped with MeeGo, but is designed to work alongside existing operator pay-TV STBs rather than bypassing them.
That means Amino won't be offering the Freedom Jump direct to consumers, but instead customizing it to suit various cable, satellite and other operator needs. As well as bringing the UI in-line with what users are already familiar with, the Bluetooth, WiFi and HDMI equipped box can be opened up – or locked down – to offer just the services that the operator prefers.
It might sound worse than what Boxee and Google TV is doing, but it could add up to a more stable service for users: no more wondering whether they'll wake up to find one streaming service or another has been deleted, together with the 1080p HD and Flash abilities of the CE4100 chipset. It'll also allow for more flexible upgrades, with operators able to update the Freedom Jump with new functionality that might normally require a whole new STB.
Press Release:
Amino Launches New Companion Set-top Box at CES 2011

The Freedom Jump is Based on MeeGo and Intel® Atom™ Processors to Enable "Over the Top" services for pay-TV providers

Amino Communications is to launch a new "companion" set-top box at CES 2011 aimed at network operators seeking to add OTT ("Over the Top") functionality to their established pay-TV and broadcast offerings.

The new device – the Freedom Jump – is designed to complement existing cable and satellite set-top boxes, working alongside them to offer access to the wealth of additional content available on the open Internet such as applications, movie-on-demand services, catch-up TV, music services and social networking.

Based on the company's multi-award winning Amino Freedom hybrid/OTT media centre, the Freedom Jump is powered by the Intel® Atom™ processor CE4100 and MeeGo™ for the TV, and has been designed to support common Internet formats such as Adobe® Flash® together with high definition 1080p capability.

The provision of a HDMI input to connect the existing service provider's STB to the Freedom Jump is designed to deliver a seamless entertainment experience with the operator's existing service offering.

A wireless option also enables connectivity to content from other networked devices in the home – with a further option allowing games controllers to be added via Bluetooth®.

Amino CEO Andrew Burke said: "There is a real gap in the market for a powerful low cost device that works with – rather than competes against – operators' existing pay-TV devices.

"Initial feedback from operators has been very positive. They want OTT functionality to meet changing viewing habits – and counter "cord-cutting" – but also a companion device that blends seamlessly with their own user interface and branded customer experience. The Freedom Jump minimises costly product change outs, whilst at the same time offering a new layer of content to customers."

"The Amino Freedom Jump is an innovative solution for service providers and their subscribers," said Keith Wehmeyer, general manager, IPTV Segment, Intel Digital Home Group, "New applications and video services require high processor performance and an open, flexible operating environment. We're pleased that Amino selected the Intel Atom CE4100 and MeeGo operating system to deliver the experiences for this new set top box."