AMG GT R Roadster limited to 750 units globally packing 577 hp V8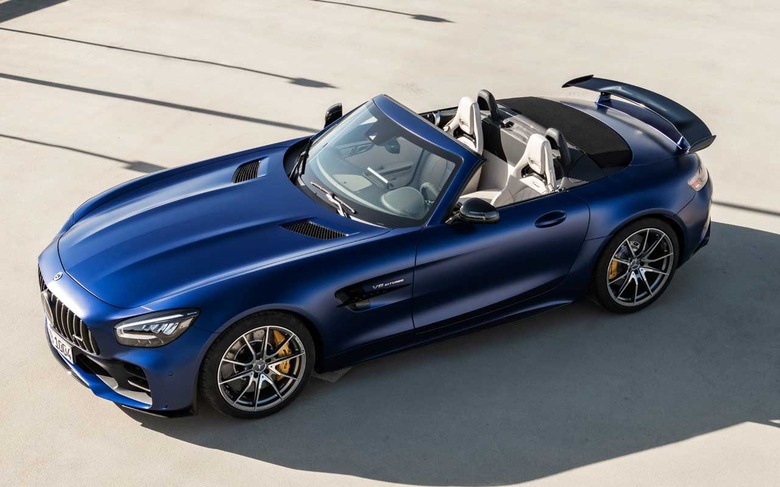 Mercedes has unveiled a new version of the sweet AMG GT called the AMG GT R Roadster. Mercedes is aiming the car at track day fans and those who want a sports car for the streets that is fun and attractive. The GT R Roadster is a limited edition version of the car with only 750 units being made globally.
Power is from an AMG 4.0L V8 biturbo engine that makes 577hp and 516 lb-ft of torque. Mercedes says the ride can hit 60mph in 3.5 seconds and has a top speed of 197 mph. Other features include standard LED High-Performance headlamps. The lights are tri-functional with arched light functions acting as daytime running lights, navigation lights, and turn signals.
The car features active aerodynamics with an active aero profile under the front of the engine that weighs only four pounds and is speed sensitive; it extends about 1.6-inches downwards depending on the drive program. That element adds a venturi effect that sucks the car to the road and reduces front axle lift by about 88 pounds at 155 mph.
When that active aero profile deploys, the radiator air outlet opens at the front and guides air towards the double rear diffuser. Mercedes also fits the car with AIRPANEL, an active air regulation system. The system includes automatic vertical louvers at the bottom of the front of the bumper that open and close in around a second to ensure the correct amount of air for cooling is delivered.
Mercedes also added an air outlet between the taillamps to allow heat to exit that is generated by the rear muffler. The rear wing is adjustable as well. The top of the car has a magnesium, steel, and aluminum structure and acoustic mat inside to reduce noise. Buyers have an available exclusive color called designo graphite grey magno matte. Mercedes is mum on pricing for the limited edition car right now.