America's Cup winner Team Oracle takes second sailing race trophy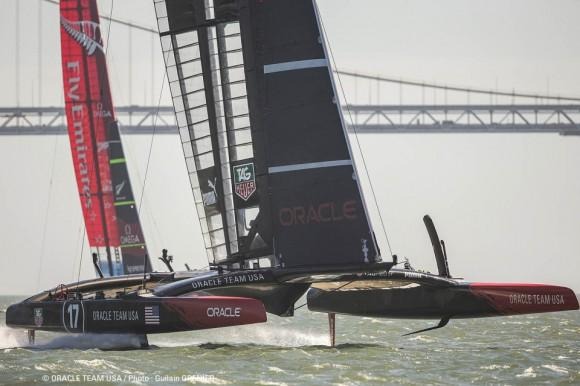 Larry Ellison's Team Oracle has won the 2013 America's Cup, with the sailing competition coming down to a final deciding race after Oracle and Emirates Team New Zealand ended up neck and neck. The deciding race, the nineteenth in the America's Cup series this year, saw Oracle Team USA pip its New Zealand rivals to the finishing line by just 44 seconds, taking the trophy with a score of 9-8 and squeezing even greater performance out of the high-tech sailing boat.
In fact, Team Oracle's boat has set new records for America's Cup participants. Constant refinement of the expensive craft saw it able to hydrofoil upwind at 30-32 knots, the fastest speed the race has seen in its 162 years.
Although Oracle scored nine points overall, on paper at least, it actually had to win eleven races in order to do it. A previous penalty, applied after the team was found to have adding illegal weight to the boat, left Ellison's entrant two points behind from day one.
The team was also required to pay a $250,000 fine, split between two charities, despite contesting the decision. "While we disagree with the unprecedented penalties imposed by the jury," team CEO Russell Coutts said at the time, "we have no choice but to make the necessary changes to personnel on our race boat and do our best to use the next four days for the new team to practise and get ready for the start of the 34th America's Cup."
Even with that penalty imposed, Oracle still managed to chase its competitors with an eight race winning streak. In the final race, the Oracle boat managed an average speed of 30.55 knots (35mph) and a top speed of 44.33 knots (51mph).
The boat itself, the AC72, uses a lightweight composite hull. That gave the team some sleepless nights, after a test run in August saw the port side rudder sheared off after a collision with a mooring buoy.