American Horror Story: Hotel revealed in first teaser trailer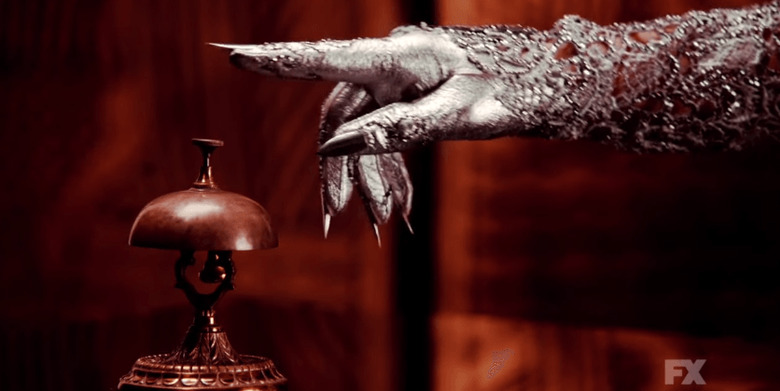 Summer is moving along quickly and starting next month television shows will be firing up their latest seasons. The next season for American Horror Story will be arriving in the near future, and today fans got their first look at what the fifth season — dubbed "Hotel" — will offer. As promised, Lady Gaga will be starring this upcoming season (we get a look at her character in the teaser), and she's playing an "evil" character per her request. No one else appears in this teaser, but more videos are soon to follow.
The teaser is only 11 seconds long, and the actual footage is even shorter — we see Lady Gaga's arm clad in a bedazzled sleeve and her hand wearing a clawed silver glove reach out and ring a service bell, presumably on the hotel's counter.
This follows the Comic Con 2015 panel that took place recently where some details were given. It was revealed who is going to be bad this upcoming season: Kathy Bates (playing Iris), Evan Peters (playing Mr. March), Sarah Paulson (playing Hypodermic Sally), Angela Bassett (character unknown), and Matt Bomer (playing Donovan).
Lady Gaga will not be singing at all during the season, it was revealed. As for the show itself, it was teased that a connection between all of the seasons will be made, and that in this hotel we'll be seeing familiar faces check in. The new season start in October.