American Express cardholders can use twitter hashtags for savings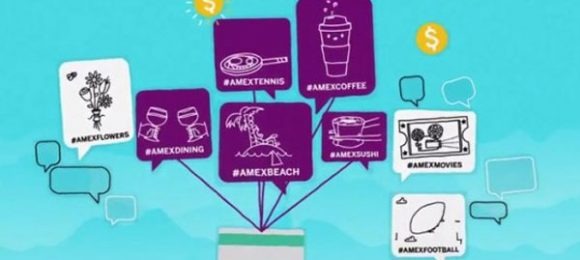 If you have an American Express card and a twitter account, the credit card company has a system that will help you save money by using special twitter hash tags. The program is called "Tweet your way to savings." The goal is to get American Express card users to sync their cards with twitter and then tweet special hashtags in exchange for savings without having to bother with coupons.
Once the credit card is linked with a twitter account, the cardholder automatically has the savings applied to their card for use at the point of purchase for each of the special hashtag offers they tweet. I guess this is a good way of getting cardholders to spam twitter followers. The good part about this is that you don't have to print a coupon or anything the special coupon savings are applied directly to the card and you get a discount at the register automatically.
One twitter discount example is hashtag "#AmexWholeFoods" landing the users $20 back on the next trip to the grocery store. The catch is that they have to spend $70 or more to get the $20 discount, but in the expensive grocery store, spending $75 shouldn't be difficult. There are a number of major retailers participating in the American Express discount program, including McDonalds, Best Buy, Virgin America, Dell, Sports Authority, and others.
[via VentureBeat]