American Airlines planning in-flight streaming movies to your iPad this fall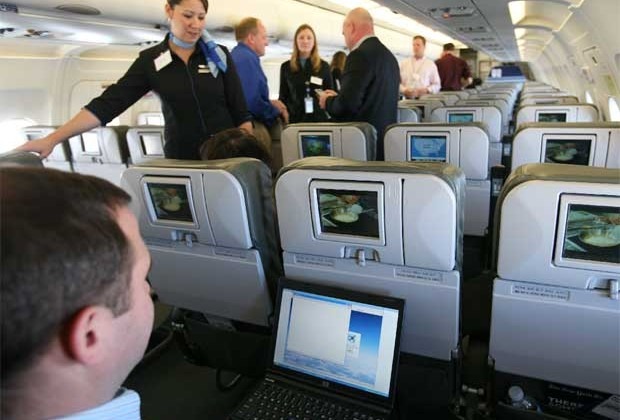 American Airlines is readying pay-per-view video rentals that, rather than being shown on an in-seat monitor, will be streamed over WiFi to your iPad, iPhone or other gadget during the flight. The new system – which will be managed by Aircell, which already operates in-flight WiFi on select AA aircraft – will allow the airline to offer significantly more content than is currently available for in-flight entertainment, including movies and TV shows.
Trials of the service will begin this week, on two Boeing 767-200 aircraft in transcontinental service, with customer testing early in the summer. Assuming the FAA approves, a full launch could take place this fall. The system uses three small antennas installed outside the aircraft, with content being streamed from a ground-based server farm.
As for in-flight WiFi itself, AA says it's on track to complete the roll-out to its entire domestic US fleet by the end of 2012. No word on how much the video rentals will cost, nor what exact devices you'll need in order to watch them.
[via ZDNet]
Press Release:
American Airlines Becomes the First North American Airline to Test Streaming Inflight Entertainment

American to Enhance Customer Connectivity with Inflight Streaming Video and Expansion of Wi-Fi to Virtually Entire Domestic Fleet

FORT WORTH, Texas, May 3, 2011 /PRNewswire/ — American Airlines, a founding member of the oneworld® Alliance, today secures another industry first. American is the first North American airline to begin testing the new inflight streaming video product from Aircell which will offer the airline's customers a brand-new, innovative inflight entertainment option. The new product will allow customers to wirelessly stream content such as movies and TV shows from an inflight library to their personal Wi-Fi-enabled devices during flight.

American, partnering with Aircell, is currently testing the new inflght video system on two Boeing 767-200 aircraft in transcontinental service, and plans to begin customer testing early this summer. The airline's goal is to roll out this product on Wi-Fi-enabled aircraft starting this fall pending FAA certifications.

"Once again, American leads the industry in providing innovative options to keep customers connected, productive and entertained. American was the first North American airline to launch inflight Wi-Fi, and today we again set a new industry standard as the first domestic airline to test inflight streaming video content," said Rob Friedman, American's Vice President – Marketing. "We know our customers want to be connected on the ground and in the sky, so we are working hard to stay on the leading edge of connectivity through technology enhancements like this."

In addition, American will work with Aircell to further enhance onboard connectivity by expanding inflight Wi-Fi to its narrow body fleet, including additional MD80 and domestic Boeing 757-200 aircraft – successfully completing its Wi-Fi offering on all of its domestic aircraft dedicated to flying within the continental United States.

The Wi-Fi expansion will include 93 of American's domestic 757s used for routes within the continental United States, and up to 50 additional MD80 aircraft. Installation will begin this summer and continue through 2012. In addition, American continues to install Wi-Fi service on its entire fleet of 737-800 aircraft.

"By expanding Wi-Fi to the remainder of American's domestic fleet and adding movies and TV to the already powerful Internet, American and Aircell continue to transform the inflight experience," said Ash ElDifrawi, Executive Vice President and CMO of Aircell. "In this new era of inflight entertainment and inflight connectivity convergence, we are proud to be American's partner in innovation and applaud their leadership."

American's inflight Wi-Fi and the new streaming video product are powered by the Aircell air-to-ground system, which uses three small antennas installed outside the aircraft and connects to Aircell's exclusive nationwide mobile broadband network. Pricing for the new streaming video offering will be determined closer to launch and at the completion of customer testing.

The streaming video offering is American's latest enhancement in a series of investments in mobile technology. Leading the industry with the development of mobile applications for iPhone, iPad, Android, NOOK and Blackberry (currently beginning Beta testing), as well as creating new mobile technologies for its operations, American understands the importance of connectivity and is strategically setting aside funding for enhancements with the goal of keeping customers connected.

"Mobility is where we are all headed and our focus on new technologies in this space is unmatched by our competitors," added Friedman.