American Airlines gets approval for iPad-equipped cockpit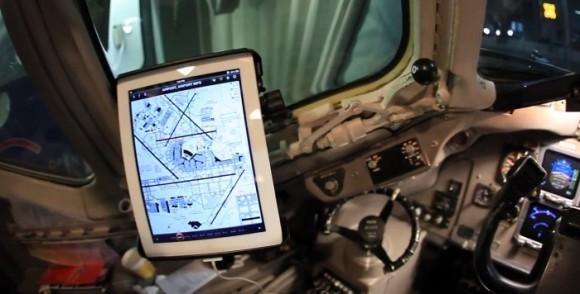 The Federal Aviation Association announced back in 2011 that it would be rolling out what they call iPad Electronic Flight Bags for use in the cockpit to replace all of the flight manuals and paperwork. Finally, American Airlines is the first airline to get approval for the iPad, and they've given eager minds a chance to take a look at the new system.
Travel website Gadling got a sneak peek inside of an American Airlines cockpit where the iPads are just starting to roll out. The iPad Electronic Flight Bag essentially replaces 40 lbs. worth of flight manuals and other paperwork with one single iPad, as well as a HyperJuice external battery that acts as a backup battery to extend the iPad's battery life an extra 24 hours if need be.
The iPad replaces a slew of manuals and books, including all the Jeppesen approach plates, company manuals, and operations manuals that pilots had to haul around all the time. All of that gets stuffed into an iPad, and the tablet gets attached to a mount that sits right beside the pilot for quick and easy access during a flight.
However, there's still one manual that pilots will be required to carry around, even with the iPads, and that's the Quick Response Handbook, which provides information on emergency procedures. However, it's not that big of a manual, so pilots won't see it as a big deal, especially since they're getting rid of 40 pounds worth of paperwork already.
So far, American Airlines has approved the iPad for the Boeing 777, 737, and McDonnell Douglas MD-80, while approval for the 757 and 767 is forthcoming. iPad have to go through a series of tests from the FAA, just as rapid decompression in a hypobaric chamber, as well as testing of the iPad mounts.
[via Gadling]