AMD's new Carrizo APU aims to improve battery life in modern laptops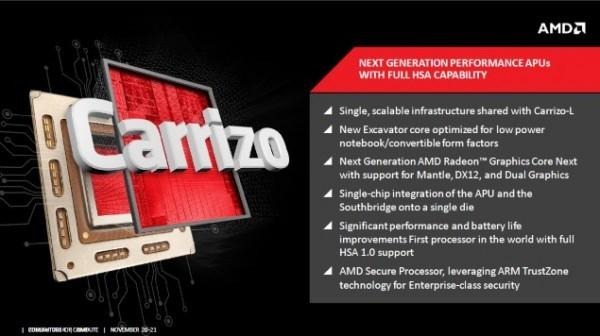 At the Computex 2015 event in Taiwan, AMD just announced its 6th generation A-Series APU chip, dubbed "Carrizo." The new processor is a key part of AMD's new effort to move away from being featured in budget-line PCs and notebooks, and instead gain interest from mainstream notebooks and two-in-one form factors. To do this, Carrizo's main feature will be an extended battery life, in addition to improved gaming and graphics performances.
Carrizo marks AMD's first time to use a System-on-a-Chip (SoC) design, combining thinks like CPU, GPU, cache memory, High Efficiency Video Coding (HEVC) hardware decoder, and IO controllers into a single unit. The processor is also complaint with Heterogeneous Systems Architecture (HSA) specifications, which allows systems to see the CPU and GPU as one, and allocate data to whichever is needed most instead of copying back and forth.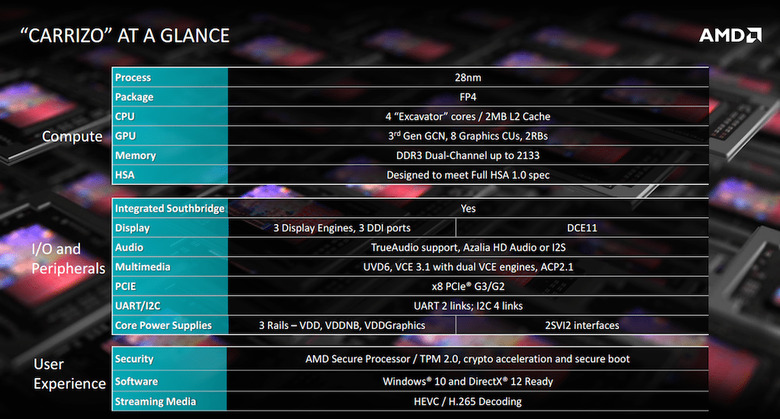 Four CPU cores based on the new Excavator architecture, along with eight GCN graphics cores, can be held on the 28-nanometer chip. AMD says their design's efficiency allows all-day battery life, in addition to excelling at activities like streaming media, business tasks, and online gaming. The chip is also described offering "a premium experience with Microsoft's Windows 10."
However, AMD did not reveal when Carrizo APUs will become available on the market, nor their clock speeds. The company has previously pledged to improve energy efficiency in their processors by 25-fold before the year 2020, and Carrizo is a big step at powering the notebooks most used by consumers today.
SOURCE: AMD