AMD Zacate teased: 18W AMD Fusion APU processor for budget PCs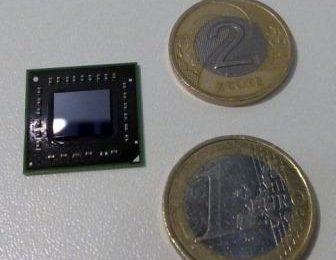 AMD are teasing a preview of their upcoming AMD Fusion APU – codenamed Zacate – which the company promises will pull high-end media and DirectX 11 capabilities into mainstream computers.  Zacate is a dual-core, 18W TDP processor with a separate on-die GPU, and while priced to suit budget notebooks and desktops is nonetheless able to stream Full HD video and delivery an accelerated browsing experience.
At the heart of Zacate are two AMD Bobcat cores which are capable of the Microsoft DirectCompute GPU computing interface and OpenCL.  More on Bobcat here.  They're paired with ATI Avivo Unified Video Decoder chips able to process 1080p video.  According to AMD's John Taylor:
"A notebook or desktop based on the "Zacate" APU, for instance, will give an accelerated Internet experience, play 1080p video, accelerate productivity apps like PowerPoint 2010, play on-line games at HD resolutions."
Press Release:
AMD to Demonstrate Next Generation PC Experience Powered by AMD Fusion APU Codenamed "Zacate"

– Sneak peek of stunning HD video streaming, immersive online gaming, and accelerated Internet browsing on "Zacate" APU-based platforms slated for next week –

SUNNYVALE, Calif.–(BUSINESS WIRE)–Next week in San Francisco, AMD (NYSE: AMD) will unveil the first North America public demonstrations of its AMD Fusion Accelerated Processing Unit (APU) codenamed "Zacate," a new dual-core, 18-watt TDP processor containing discrete-level graphics capabilities on die and designed to dramatically improve the user's PC experience. Targeting value and mainstream notebooks and desktops, "Zacate" APU-based platforms bring many of the vivid digital computing experiences once reserved for high-end PCs into the opening price points of the mainstream segment.

What: Demonstrations of the experience consumers can expect to see early in 2011 from a broad range of mainstream notebook and desktop PCs based on the AMD Fusion APU codenamed "Zacate," including:

Full HD streaming online video, showcasing the versatility of the "Zacate" APU-based platform to handle the most demanding multimedia tasks

Immersive online gaming with high image-quality settings, demonstrating the DirectX® 11-compliant "Zacate" APU-based platform

Preview of accelerated Internet browsing, showing how "Zacate" APU-based platforms support the future of GPU-enabled web browsing today and how these platforms perform side-by-side against currently available AMD- and Intel processor-based notebooks

When: Monday, September 13 through Wednesday, September 15, 2010

Where: San Francisco, CA

Who: Senior AMD executives and engineers responsible for AMD Fusion APUs

Throughout the week of September 13, 2010, AMD executives will provide frequent blog posts at blogs.amd.com on the company's demonstrations as well as commentary on new developments in the CPU, GPU and APU markets. The first two updates cover the consumer PC market and the software developer ecosystem.

For those in the community who wish to learn more about the demonstrations, please follow AMD on Twitter at @AMDUnprocessed, or on Facebook at http://www.facebook.com/AMD.

About AMD

Advanced Micro Devices (NYSE: AMD) is an innovative technology company dedicated to collaborating with customers and technology partners to ignite the next generation of computing and graphics solutions at work, home and play. For more information, visit http://www.amd.com.