AMD Unveils 64-Bit Octa-Core Opteron A1100 ARM Chip For Servers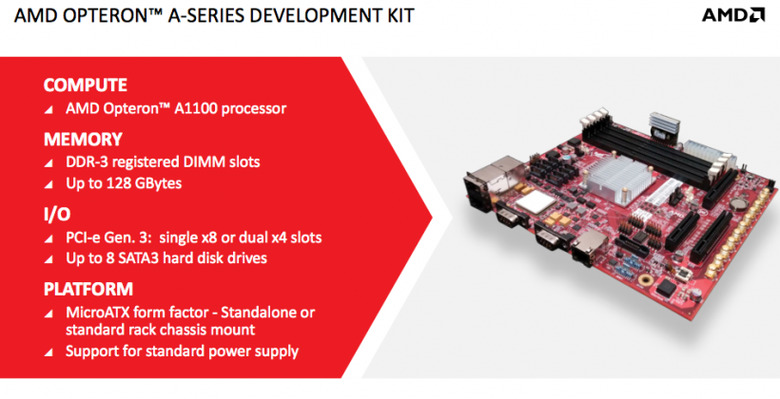 The fact that the ARM architecture is finally breaking into other spaces beyond mobile devices is proven by this latest piece of news. AMD has just announced the Opteron A1100, an ARM-based system-on-chip designed exclusively for servers.
That AMD is outing an ARM chip shouldn't come as a surprise. In fact, it announced its plans to do so in late 2012. It is also, in a way, the chip maker's way of getting in the face of rival Intel, who holds the lion's share of the x86 market and is continually threatened by ARM on all sides.
But while the ARM design is a no-brainer on mobile devices, it has yet to prove its feasibility on servers, another Intel stronghold. Several such attempts have been made in the past but were foiled by the lack of 64-bit support. That has recently changed with the introduction of Cortex A53/A57 processors that support the new architecture.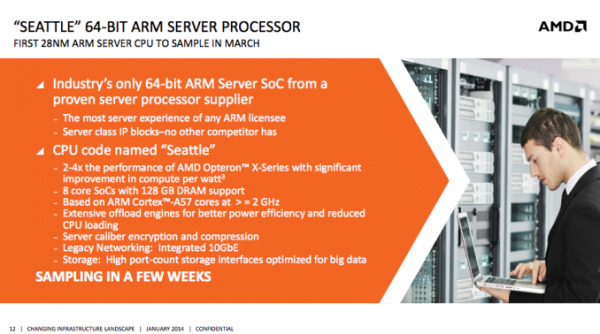 The Opteron A1100 actually uses 4 or 8 Cortex A57 cores designed by AMD, with each core operating at more than 2 GHz. In an octa-core configuration, the whole chip has a total of 4 MB L2 cache and 8 MB L3 cache. It is able to support up to 128 GB of DDR3 RAM, though a new memory controller also makes it compatible with DDR4. On-die there is also an 8-port 6 Gbps SATA controller that, according to AMD, can support full bandwidth on all 8 ports. AMD will make a reference board available in March but actual product announcements might not come until much later this year.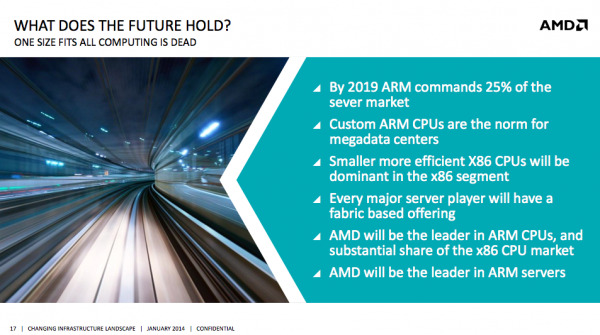 Don't go looking for this chip in mobile devices yet, as the Opteron A1100 is squarely aimed at servers, where the company might make more money by offering low cost, high volume CPUs, an area that ARM is quite popular for. Based on the company's slides, it seems that AMD is shifting its eyes towards ARM as the architecture of the future, outselling x86 chips in the server space soon. It is still unknown if AMD will adopt a similar strategy in the future when it comes to desktop CPUs as well, though it is throwing hints that it might do just that.
VIA: AnandTech