AMD Trinity 2012 Chip Demoed On Notebook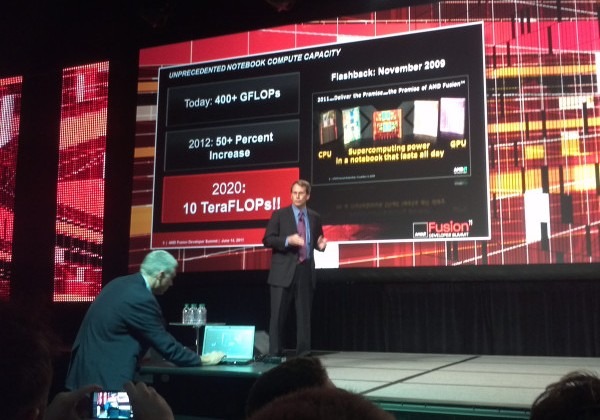 AMD has officially launched the Fusion A-Series APUs—a hybrid of CPU and GPU technology—previously called Llano. It will be available in this year's desktops and notebooks. Its successor, the AMD Trinity, isn't due until 2012, but during a presentation this morning at the AMD Developer Fusion Summit 2011, the new silicon was actually demoed on a notebook, as shown in the tweeted image below.
The Llano has already been quite impressive, promising notebooks running the A-Series APU to achieve over 10.5 hours of battery life, while packing in up to four CPU cores and up to 400 Radeon cores. There's support for HDMI 1.4a, DisplayPort 1.1, and USB 3.0. Pairing of an A-Series APU with discrete Radeon graphics, called Dual Graphics, can mean a 75 percent performance boost.
The AMD Trinity will be manufactured on the same 32nm process and is due out in 2012. The presentation this morning may be the first time the AMD Trinity was shown actually running on a notebook since it was announced last month at Computex. The Trinity APU promises 50 percent more power than the Llano or Fusion A-Series APU and this extra boost in performance will come from running "Bulldozer" x86 CPU cores with an updated DX11 GPU architecture.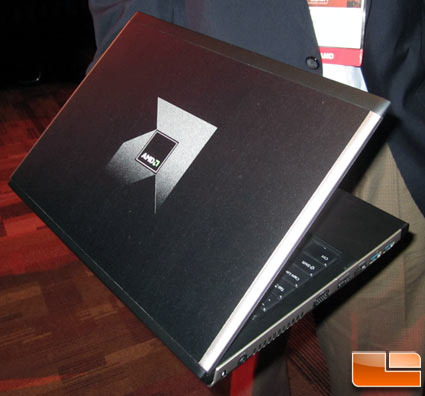 [via LegitReviews]