AMD Threadripper CPU will make you want a beastly PC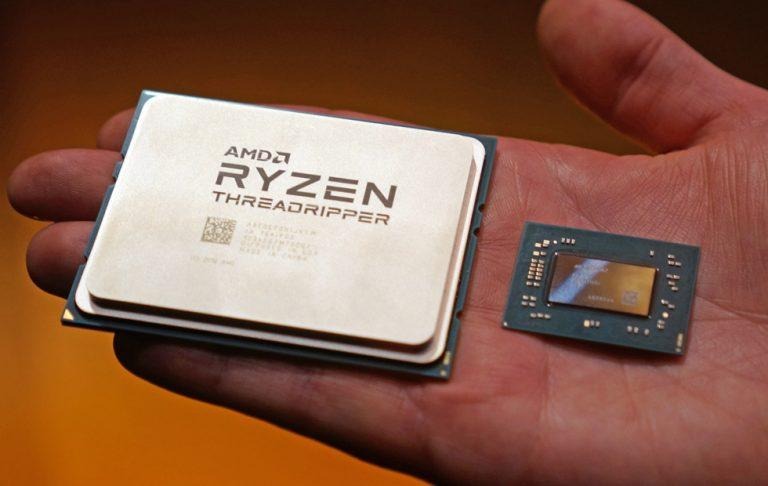 AMD Ryzen Threadripper CPU details have arrived, and they're ready to kick next-gen PC expectations into gear. These two models contain 12/16 cores, 32 threads, 4GHz turbo, and quad channel DDR4 memory. They're more than ready to roll up to Intel's similar CPU options – they've already surpassed them (on paper, anyway).
First we're going to run down the specifications for the two new CPU models shown by AMD this week. These two are very similar to one another – but both are surprisingly affordable for the power they suggest they offer. At this time the hardware included in initial packaging is unknown.
Specifications for Threadripper 1950X and 1920:
Cores/Threads: 16/32 / 12/24
Socket: TR4 (LGA) 4094-pin / "
Base Freq: 3.4GHz / 3.5GHz
Turbo Freq: 4.0GHz / 4.0GHz
XFR: Unknown
L2 Cache: 512KB/core / 512KB/core
L3 Cache: 32MB / Unknown
TDP: 180W / 180W
PCIe 3.0 Lanes: 60+4 / 60+4
DRAM Frequency: Unknown
Chip Support: X399 / X399
Price (List): $999 / $799
Price at retail: Unknown
As should be clear, here, these CPU units are made for the biggest and baddest of the PC world. As AnandTech suggests, this may well be the beginning of the "Super High-End Desktop" age. Next we've got a few specs for the Intel Xeon Gold, a chip that's relatively comparable in this category.
Specifications for Intel Xeon Gold:
Cores/Threads: 18/36
Base Freq: 2.7GHz
Turbo Freq: 3.7GHz
L2 Cache: 1MB/core
L3 Cache: 24.75 MB
TDP: 165W
Price (List): $3358 USD
Above is the introduction to Threadripper as well as Ryzen 3. This introduction comes from Dr. Lisa Su, AMD President and CEO, as well as Corporate Vice President of Worldwide Marketing John Taylor. In the video they suggest that Ryzen Threadripper processors will be "on shelves" in early August, 2017.
They also run benchmarks in the video which... isn't especially helpful since there's no possible way the results are going to be considered objective. We'll have to get the whole gang in for a few tests of our own if we're going to trust the absolute butt-kicking these CPUs seem to be giving Intel right off the bat.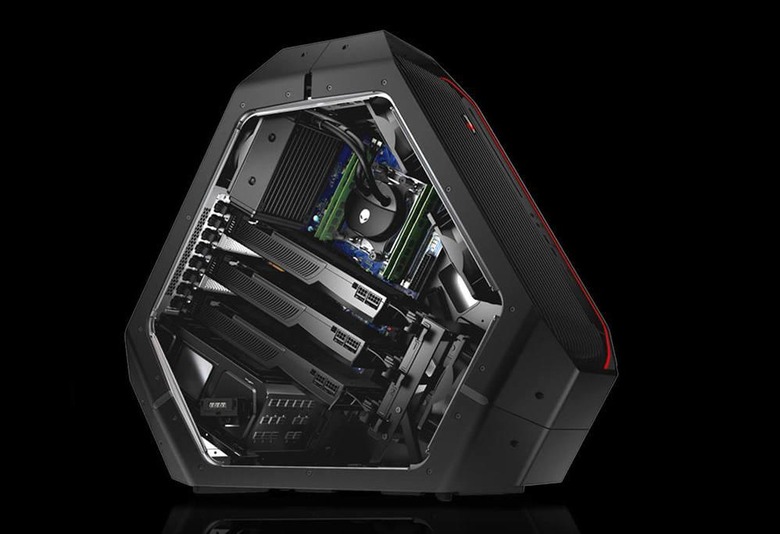 UPDATE: There's an Alienware Area-51 Threadripper Edition PC now, just revealed by Dell. Inside is the following – truly a beast of a PC, if you consider PC's not constructed at home to be capable of being beasts.
Alienware Area-51 Threadripper Edition PC Specifications:
• Processor: AMD Ryzen Threadripper (Up to 16C/32T)
• Memory: Up To 64 GB 2933 MHz DDR4 (4x DIMM)
• Graphics: Up to 2 x Nvidia GeForce GTX 1080 Ti in SLI or Up to 3 x AMD Radeon RX 580 in Crossfire
• HDD: Up to 2TB
• SSD (M.2 PCIe): Up to 1TB
• Wireless: Dell 1820 802.11ac 2x2 or Killer 1535 802.11ac 2x2 Wi-Fi
• Front Ports: 2x USB 3.1 Gen 1 Type-A, Optical Drive, Headphone Jack, Microphone Jack, Media Card Reader
• Rear Ports: 10 USB ports (unknown type), at least 1x USB Type-C (w/ 15W Powershare), Dual Killer Networks E2500 Gigabit NICs, SPDIF Port, 5 1/8-inch Audio Jacks
• Dimensions: 569 x 638 x 272 mm
• Weight: Starting at 28kg
Pricing on this creature is not yet known. Neither is the release date. But if what we've seen so far remains true, the end result will have some serious chops.
If these CPUs are everything AMD promises, they're about to shake the industry irreversibly up. And that's a good thing – especially if you want to make a monstrous – a Super High-End Desktop – yet want to avoid having to sell your organs to do so.