AMD shows off their new Stars line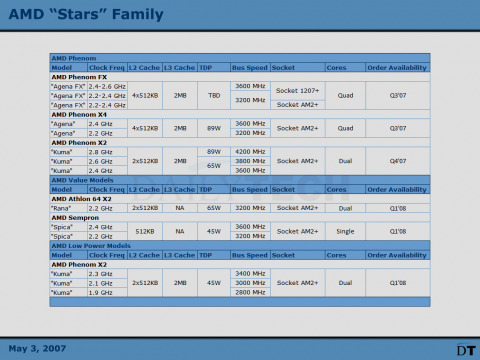 AMD has unveiled the specs on their new Stars family of processors. We still see the familiar names of Athlon and Sempron in the lineup, but new to AMD's family is the Phenom.
The Phenom line is their new selection of high-end processors. Though the clock speeds haven't been officially announced we can guess that we'll see speeds for the top two coming in at 2.4-2.6GHz and 2.2-2.4GHz respectively. They will also be setting the Phenom processors apart with Hyper Transport 3.0 speeds ranging from 3.0GHz to 3.6GHz and a 2MB L3 cache.
We should be seeing the new Phenom processors sometime in Q3, while the new Athlon and Sempron processors won't be showing up until Q1 of 2008.
Final AMD "Stars" Models Unveiled [via dailytech]