Ever since it came out with its new Zen core architecture late last year, AMD has been aggressively pushing its Ryzen line of processors to almost every computing market its eternal rival Intel has a foothold. It even suspiciously named some of its processors, particularly those for desktops, to match Intel's Core i scheme. So after the high-end Ryzen 7 and the Ryzen 5, it's really no surprise that AMD has finally come out with the Ryzen 3 to target even more budget-constrained PC gamers.
Yes, even with a Ryzen 3, AMD is aiming for the gaming market. After all, if your CPU can handle games, it can handle almost anything, right? But while these two new Ryzen 3 processors are indeed "AMD VR Ready", that is really only true if you have a matching VR Ready GPU. Preferably an AMD Radeon, of course.
As mentioned, there are two pioneering processors in this mainstream line, both with 4 cores, 4 threads, and 65 watt TDP. First is the Ryzen 3 1200, which runs at a base clock speed of 3.1 GHz and can be boosted to 3.4 GHz. Those who really want to squeeze out the most out of AMD's budget Ryzen line will probably aim for the Ryzen 3 1300X for two reasons. First is that it runs faster at 3.5 GHz and even faster at 3.7 GHz with boost clock.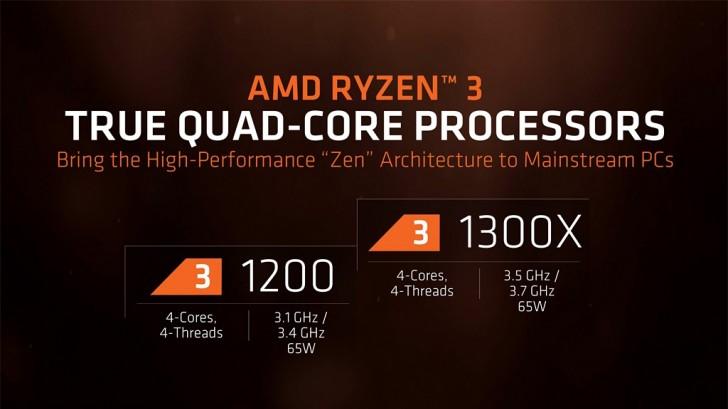 However, you can even take it up a notch to 3.9 GHz if you activate XFR. That said, you will have to swap out the Wreath Stealth cooling solution that comes by default with both Ryzen 3 CPUs and use the new Wraith Max, which can now be purchased on its own. The Wraith Max can also be used to enable XFR on the Ryzen 7 1800X, Ryzen 7 1700X, and Ryzen 5 1600X.
Since this is AMD's budget line, the price tags on the Ryzen 3 processors shouldn't be a surprise either. The Ryzen 3 1200 goes for a measly $109 while the Ryzen 3 1300X isn't that much higher at $129. Both are compatible with new AM4 motherboards. The new standalone Wraith Max thermal solution, on the other hand, will set you back another $59.
SOURCE: AMD