AMD Radeon HD 8970M Claims World's Fastest Laptop Graphics Crown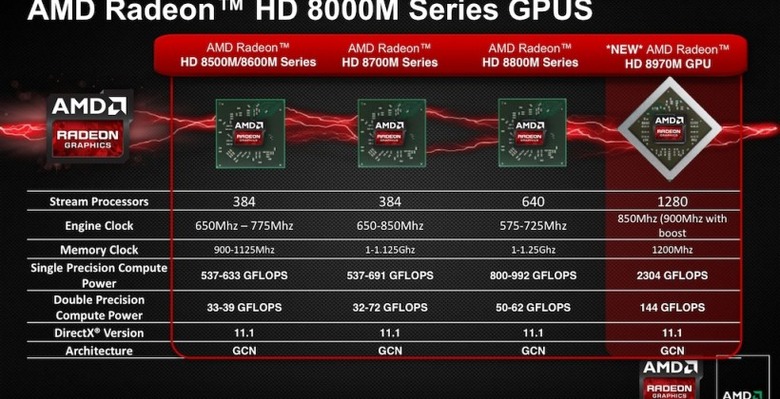 AMD might have already unveiled their HD 8000M series graphics back in December and at CES 2013, but they left out a certain chip in particular and saved it for today. The company unveiled the Radeon HD 8970M, which they claim is the world's fastest laptop graphics chip, saying that it outpaces NVIDIA's GeForce GTX 680M graphics.
The new chip features AMD's new "Graphics Core Next" architecture, and it's quite a big jump up from the company's HD 8800M series. The 8970M features 1,280 stream processors, and a clock speed of 850MHz with a memory speed of 1.2GHz. The new chip should be able to handle pretty much any new game you throw at it on your laptop.
As for the first laptop to get the new 8970M, it'll be the MSI GX70, which will come with an AMD A10 quad-core processor, Eyefinity support, Killer gaming network card, and will have a 17.3-inch display with a 1920x1080 resolution. However, we should be seeing more laptops with the new graphics chip later this year, possibly next month at Computex.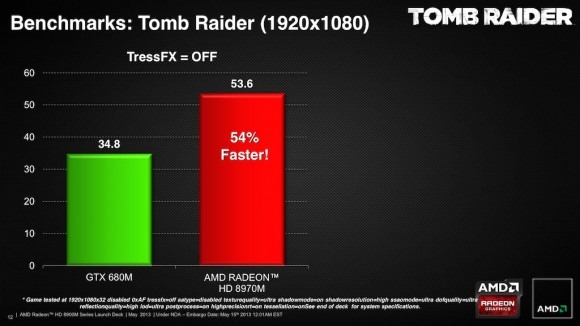 Of course, you'll be paying a pretty penny for any machine that will run AMD's latest graphics chip, with the GX70 most likely exceeding well over $1,000, but they also have slower 8000M series chips that the company unveiled in January, including the 8500M, 8600M, and the 8700M. Of course, the 8500M may not live up to AMD's 8970M chip, but the 384 stream processors along with the 650MHz clock speed and 1,125MHz memory speed should keep you humming along with most games while on the go.