AMD officially reveals Radeon HD 8000M family of graphics card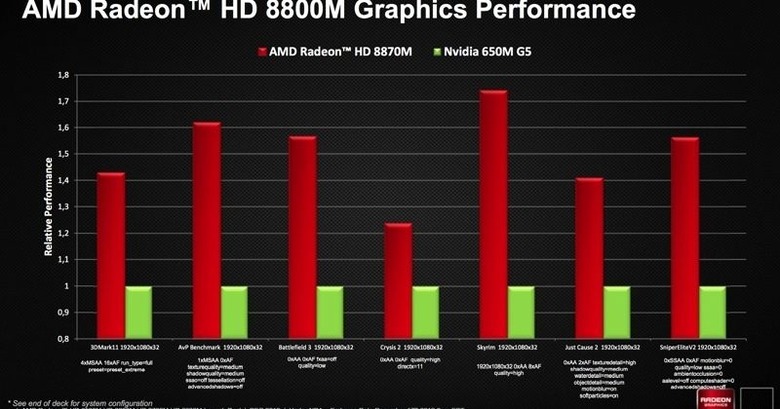 Earlier today, we saw a German listing for a new ASUS ultrabook that featured an AMD Radeon HD 8550M. That was pretty exciting, but the problem was that AMD hadn't confirmed a new HD 8000M series of graphics cards. That all just changed, with AMD officially pulling the veil off the 8000M series ahead the line's launch at CES 2013.
We're looking at four different chips being announced today: the 8500M, the 8600M, the 8700M, and finally, the 8800M. These cards will cover the performance + gaming and mainstream segments of AMD's audience as we head into 2013, with a new series being announced in Q2 2013 for the enthusiasts among us. The first computers using the 8000M series will begin popping up on store shelves in Q1 2013, so it won't be long before we start seeing these cards in laptops.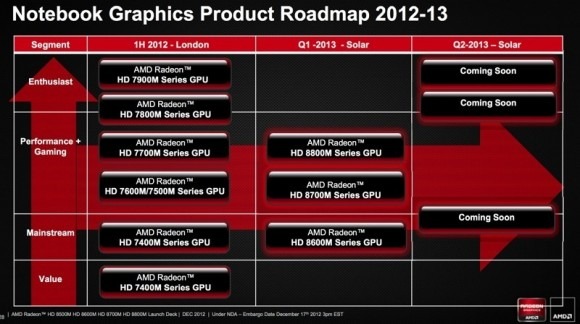 Of course, AMD has shared plenty of promotional material on the series, putting some of the cards in the line against its competitors in a series of graphs. AMD put the Radeon HD 8870M up against the NVIDIA GeForce 650M, running a number of benchmarks and testing them out with a handful of games. In these tests, the 8870M outperformed the 650M by 20-70%, though there were some details missing from these graphs, such as frame rate. We'll have to wait until the cards get closer to release for more juicy details.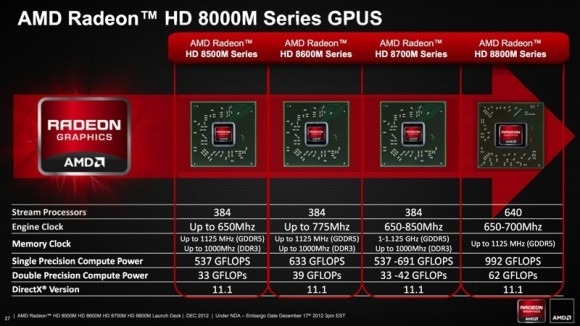 All of the cards in the 8000M series are based on AMD's 28nm Graphics Core Next architecture, and all of them come with support for DirectX 11.1 and AMD's various power saving features. It's worth pointing out that while you'll be able to use these cards with a Trinity APU, you won't be able to use them both at the same time in CrossFire, due to the fact that they're based on different architectures. We'll be finding out more about this new line shortly, so keep it tuned here to SlashGear for more.
[via Engadget]