AMD Radeon HD 8550M graphics leaked in ASUS VivoBook U38DT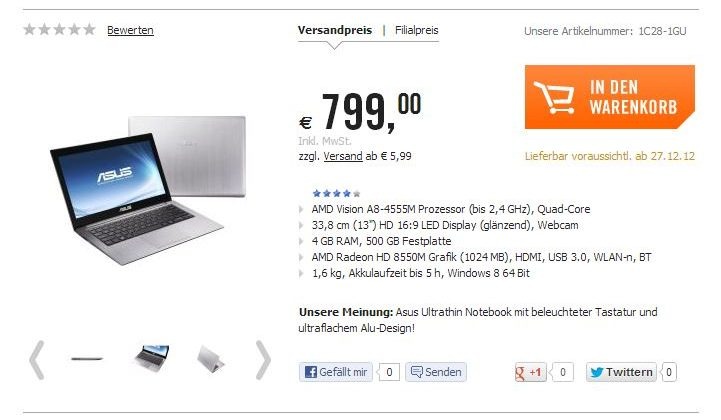 It would appear that AMD is plotting a next generation line of mobile graphics, as a card from the company's 8000 series has appear in a listing for an incoming ASUS ultrabook. Details are still pretty slim, and when that's coupled with the fact that AMD has yet to announced the 8000 family of GPUs, it's hard to know what's really going on. Still, if the listing on German retailer Cyberport is to be believed, the ASUS VivoBook U38DT will ship with an AMD Radeon HD 8550M under the hood.
That mobile graphics unit can boast 1GB of RAM, but that's all the listing tells us, meaning we don't know much more. We do know a few other things about this ultrabook though – it'll be a Windows 8 ultrabook for starters, and it uses a quad-core AMD A8-4555M clocked at 1.5GHz that can bumped up to 2.4GHz. It also features a 13.3-inch LED display at 1366x768 resolution, 4GB of RAM, and a 500GB hard drive.
So, this is definitely an ultrabook in many respects, but it's apparently shipping with a new GPU from AMD. Cyberport says that the ASUS Vivobook U38DT will begin shipping on December 27, so its release is only 10 days away. With that in mind, we should be getting an announcement from AMD concerning this new HD 8000 family shortly.
However, there's a possibility that AMD is just rebranding a 7000 series card for this release, which would explain why there haven't been any big announcements yet. We'll just have to wait and see what happens and if AMD decides to reveal anything. Keep it tuned here to SlashGear for more information!
[via Tech PowerUp]