AMD Radeon HD 7970 Series GPU officially announced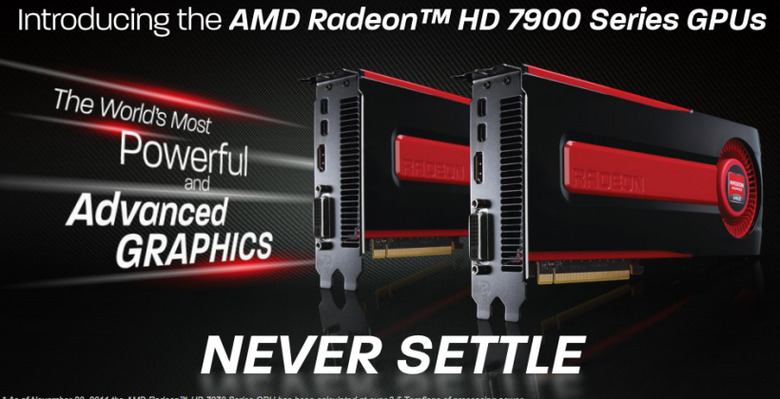 This week the AMD Radeon HD 7970 series graphics processor series has been released (for $549 on January 9th, if you'd like to know,) and its codename family "Southern Islands" has been detailed in full to show the world what the company has planned for GPU power throughout the next few years, starting right here at the next: 2012. In a set of affirmations by the group that's about to unleash their newest set of GPU units on the world of gaming, AMD said that PC gaming software sales on the whole were over $15 billion USD in 2011 and are estimated to blow past $20 billion inside 2012. Because of this, and because AMD loves its gaming following out there in gameland, they've also re-affirmed their dedication to their "Gamers Come First" credo, as well as their Gamers Manifesto which says, quite simply: Enablement, Not Disablement.
AMD also noted they'd continue their strong ties to gaming developers through 2012, this on top of supporting (in one way or another) all gamers, not just those working with AMD products. They spoke of the current state of gaming rigs there much higher resolution displays cost much less than previous lower-end models, and how according to their sources (Steam Hardware Surveys), high-definition monitors are the more common of the two display categories in gaming today. They spoke of power efficiency, reduced cost of ownership, and the thinning out of devices allowing for easier transport and daily storage.
AMD noted that they've now got word that over 200 applications are accelerated by AMD GPUs specifically at this very moment, this pointing towards the fact that GPUs aren't just working for gamers as they once essentially were. They spoke of how awesome they were in that they were the first to work with 28nm processes, how they were the first to PCI-E Gen 3, and how they worked with DirectX 11.1 first as well.
Then came the talk of what was code-named Southern Islands. In this project came three islands: Tahiti, Pitcairn, and Cape Verde. The first of these three, Tahiti, contained Enthusiastic Gamers and the "World's Most Powerful and Advanced GPU." Then there's Pitcairn where all the Hardcore Gamers live and the "sweet spot" for hardcore gamers must also reside. Lastly there's Cape Verde where Performance Gamers sit with their "new paradigm of performance and power." What does this all mean? It means AMD is getting specific with their hardware, seeking each different kind of user for precise computing for all!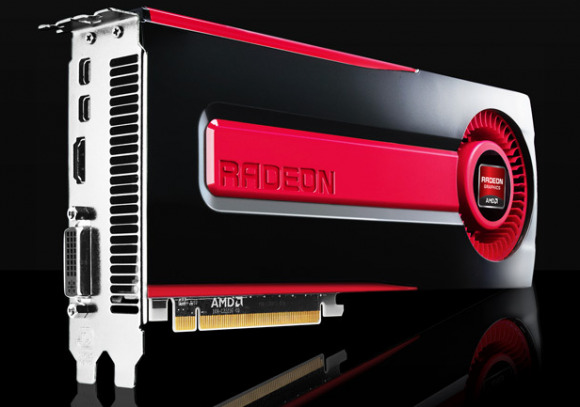 Thusly they break this project down again into Graphics Core Next, AMD Eyefinity 2.0, and AMD App Acceleration. Here you'll find their many pinpoints of power including the lovely 28nm Process tech, PCI-E Gen3, custom resolutions, the ability to work with 5 x 1 landscape, and a whole mess of new software partnerships for the very near future.
All of this leads up to the AMD Radeon HD 7970, with stream processors adding up to 2,048, Graphics Core Next shader architecture, 3GB GDDR5 memory and 384-bit bus, 6 pin and 8 pin power connectors, DVI, HDMI, and two mDP outputs, and yes, yes indeed, up to 6 displays working on this same bit of hardware at once. It's got a whole mess of fabulous display configurations for you to work with aside a full slot for better cooling than ever before – and the fan up back of the hardware has the most advanced cooling and silent acoustics an AMD bit of hardware has ever had.
Matching up against their biggest competitor NVIDIA this AMD Radeon monster out-does it in every benchmark they've set up, and their AMD CrossFire Technology is laid out to look rather impressive against the same GPU with no such scaling in place. A whole pack of power-saving technologies are visualized as well such as ZeroCore Power Technology with AMD CrossFire as well as AMD ZeroCore – idle out!
They launch into AMD Radeon HD 7900 Series codename "Tahiti" details, speaking about how inside you'll find up to 32 compute units, 8 render back-ends with 32 color ROPs per clock and 128 Z/stencil ROPs per clock. Here you've got a 384-bit GDDR5 memory interface with over 264 GB/sec memory bandwidth and 4.3 billion 28nm transistors. That's a lot of little pieces of graphics magic! AMD rolls out details on how they're about to change the whole earth with their first ever GPU with the ability to simultaneously output multiple independent audio streams, one for each screen you've got if you like! Be sure to check out Anand's benchmarks and review of this GPU for starters, then pick one up for yourself at the start of 2012 and rock it all night long.