AMD Radeon HD 6000M series official: EyeSpeed and AMD HD3D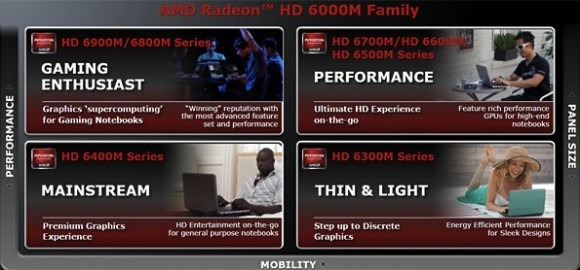 AMD has announced its latest notebook graphics option, the AMD Radeon HD 6000M series, consisting of up to 1.3 teraFLOPS of crunching power paired with the ability to drive up to six displays simultaneously. The Radeon HD 6000Mfff range includes thin & light, mainstream, performance and gaming options, all of which support AMD HD3D.
The HD 6300M kicks off the ultraportable line, while the HD 6400M steps into the mainstream. The HD 6500M/6600M/6700M slot into the performance series, and the gaming enthusiast gets the HD 6800M and HD 6900M.
At the top end, that means things like a 580-680Mhz clock, 960 Stream processing units, 48 texture units, 128 Z/Stencil ROP units and 32 Color ROP units on the HD 6900M.
Press Release:
AMD Extends Leadership in Notebook PC Graphics with its Second-Generation of DirectX® 11-capable Mobile Graphics Technology; Delivering the Ultimate in Efficiency and Performance

—The AMD Radeon™ HD 6000M series are a top-to-bottom family of DirectX® 11-capable mobile graphics processors designed to deliver exceptional performance in every segment—

LAS VEGAS, Nev. —1/4/2011

AMD (NYSE: AMD) today introduced its next generation mobile graphics technology, the AMD Radeon™ HD 6000M series, delivering AMD's highest performing notebook graphics for those who want to experience games, entertainment, and productivity on the go. Harnessing AMD's second-generation of Microsoft DirectX® 11-capable mobile graphics architecture, the AMD Radeon™ HD 6000M series provides users with:

Models offering up to 1.3 teraFLOPS of compute power for an unrivaled gaming experience on up to six displays using AMD Eyefinity technology.1

AMD HD3D technology for the ultimate in stereo 3D entertainment.2

AMD EyeSpeed technology for improved video and application performance.3

Notebooks featuring the new graphics technology are previewed at the 2011 Consumer Electronics Show (CES) in the Wired: Make a Scene booth, located in the Grand Lobby of the Las Vegas Convention Center.

"One year ago AMD claimed the title of undisputed technology leader in mobile graphics performance and since then we continue to pave the way for mobile computing innovation," said Matt Skynner, corporate vice president and general manager, GPU Division, AMD. "With the introduction of the AMD Radeon™ HD 6000M series, AMD's best just got better by cementing its leadership in notebook graphics. Through our feature-rich line of top-to-bottom next-generation notebook graphics, including AMD's fastest performing notebook graphics processor, we're enabling a superior visual computing experience in virtually every segment."

AMD Radeon™ HD 6000M series graphics represent powerful support for original equipment manufacturers (OEMs) with existing and upcoming 2011 AMD Mainstream notebook platforms planned to feature true "Eye-Definition" Gaming with DirectX 11 support and AMD Eyefinity technology, plus amazing AMD HD3D Technology—all designed to accelerate mobile performance.