AMD Radeon FreeSync 2 brings HDR to PC gaming without the lag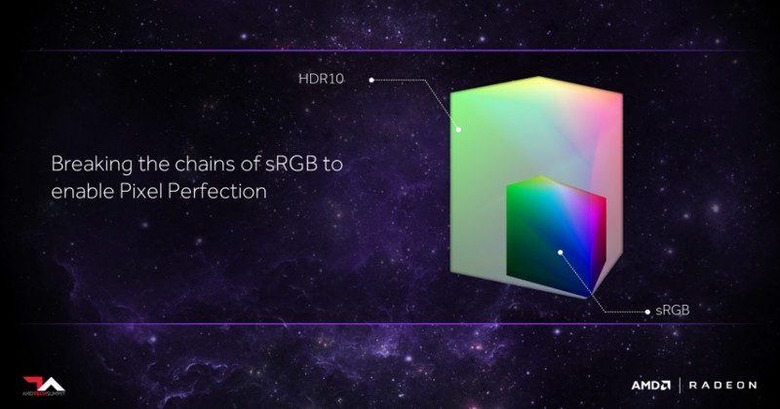 HDR is the new frontier and buzzword when it comes to visual entertainment, from HDR TVs to HDR videos to, of course, HDR games. Consoles have recently jumped on that train, particularly with more recent iterations like the Xbox One S and the PlayStation 4 Pro. PC gamers, on the other hand, are in a bit of a conundrum, having to choose whether to sacrifice quality over refresh rates. AMD asks why choose when you can have both. Its new Radeon FreeSync 2 technology takes its tear-free gaming experience and slaps on HDR compatibility to offer all those nice colors without causing death by lag.
There is no lack of HDR-compatible content and HDR-capable screens for PCs. There is a problem, however, that's very specific to gaming. In the common HDR setup, the content's brightness, color, and contrast are more or less fixed based on certain industry standards. Displays, however, don't always support the same range of brightness or even color space. In order to bridge that gap, tone mapping is used, where the content's settings are mapped to the TV's capabilities.
Tone mapping, however, is something that the display itself processes, and this incurs some delay. While a 100 ms delay might be OK for movies, it can mean life or death in some fast-paced games. AMD finds that solution unacceptable, especially when it has something better to offer.
In a nutshell, FreeSync 2 offloads the tone mapping process to the Radeon graphics card, freeing the display to just, well, display. Games and content can output their preferred settings without worrying about the display's actual capabilities. FreeSync 2 does the heavy lifting.
Offloading the work is the same concept used in the first FreeSync iteration to get rid of lag and tearing. The graphics card, after all, is more capable than a monitor in negotiating refresh rates and, now, color ranges and brightness. This makes it the best place where such rapid calculations should take place, which is exactly what FreeSync 2 offers.
The great news about FreeSync 2 is that Radeon cards that already support FreeSync 1 will also support its successor. That also includes the Radeon RX series based on AMD's Polaris graphics architecture. Monitors that support FreeSync 2, however, are still under evaluation.
SOURCE: AMD