AMD Phenom II X4 965 Black Edition launches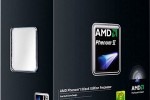 AMD have officially announced their latest high-end performance CPU, the Phenom II X4 965 Black Edition.  Running at 3.4GHz, the quad-core AM3 processor has 8MB cache and a 2.0GHz HT Link; in keeping with AMD's "Black Label" chips it's also unlocked for overclocking.  In fact, the company provides their own OverDrive software, which can load either Black Edition memory profiles, for DDR3-tuned overclock presets, or more straightforward Smart Profiles which direct app-specific processes to specific cores.
The Phenom II X4 965 3.4GHz offers a 61-percent performance boost over the company's Phenom 9950 but, at 121W under load and 9W at idle, consumes less power than that earlier chip and is the highest frequency CPU AMD has ever made up to date.  Like other 45nm Phenom II chips the X4 965 can selectively set individual cores into sleep-modes, while the CoolCore technology can clock-down inactive portions of L3 cache to both save power and reduce heat output.
AMD also reckon they'll win sales from those buyers looking to scale their upgrades, rather than invest in one go.  The Phenom II X4 965 is backward compatible with socket AM2+ motherboards, and as such can be installed into older systems if users aren't ready to switch to newer 'boards and faster DDR3 memory. The Phenom II X4 965 will hit the retail shelf for $245.