AMD outs Socket-AM3 Flagship CPU - Phenom II X4 955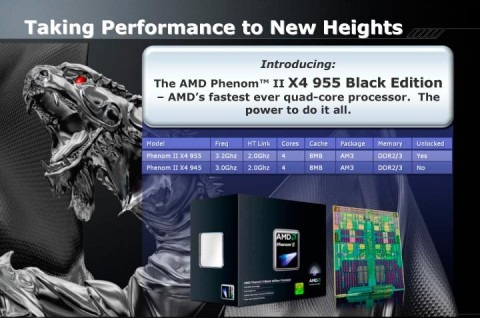 AMD has today unveiled the much-speculated Phenom II X4 955 Black version CPU, an upgrade of current socket AM2+ performance Quad-core processors with similar 45nm fabrication, 8MB cache (2MB L2 + 6MB shared L3) and 125W thermal envelope, but offering faster clock speed of 3.2GHz. The new Phenom II X4 also has an integrated memory controller capable of working with DDR3 memory on AM3-based motherboards, up to DDR3-1333 speed, and is backward-compatible with Socket AM2+ DDR2-1066 memory.
Also introduced is a step-down version of the 955 with a locked multiplier, a 3.0GHz Phenom II X4 945 with 8MB cache in a similar AM3 package. The memory controller and HyperTransport on these AM3 Phenom IIs runs at 2.0GHz, faster than the previous Phenom II 940 and 920 which each had a bus speed of 1.8GHz.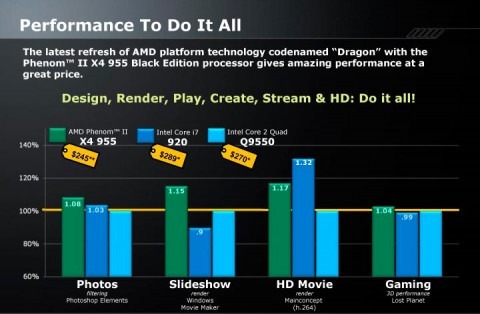 The new Phenom II X4 AM3-based 955 combines with recently released ATI Radeon HD 4890 GPU, codenamed "Dragon" refresh platform, are AMD's attempt to rival the lower-end Intel Nehalem and Yorkfield quad-cores. With MRSPs starting at $245 the new CPU is not only more affordable, but, according to AMD's benchmarks at least, stands out in handling multimedia when compared to the Intel Core i7 920 and Core 2 Quad Q9550.
As a Black Edition chip, the new Dragon is equipped with an unlocked multiplier to facilitate overclocking. Additionally, PC enthusiasts should be thrilled with the update of the AMD OverDrive 3.0 app (Windows 7 Ready), loaded with an optimized AMD Black Edition memory profile, completely customizable and pre-tuned to enhance overclocking performance with a number of starter configurations.
OverDrive 3.0, to be released soon in beta, also now uses the XML file format to make swapping system settings in-between users straightforward. In addition, it means vendors are able to post and update hardware profiles online, such as CPU frequency, voltage, clock memory and timing, so to provide end-users with optimum system throughput through safely "sanctioned" settings.
Both the AMD CPUs, Phenom II X4 AM3-based 955 and 945 are available now at local and online retailers for $245 and $225 respectively. Meanwhile, AMD has informed us that the MSRP of Black Edition Phenom II X4 940 will drop to $195.
NEW Phenom™ II X4 Processor Specifications:
Model Number & Core Frequency: X4 955 Black Edition = 3.2GHz
Model Number & Core Frequency: X4 945 = 3.0GHz
X4 955 Black Edition OPN: TRAY OPN# HDZ955FBK4DGI
X4 955 Black Edition OPN: PIB OPN# HDZ955FBGIBOX
X4 945 OPN: TRAY OPN# HDX945FBK4DGI
X4 945 OPN: PIB OPN# HDX945FBGIBOX
L1 Cache Sizes: 64K of L1 instruction and 64K of L1 data cache per core (512KB total L1 per processor)
L2 Cache Sizes: 512KB of L2 data cache per core (2MB total L2 per processor)
L3 Cache Size: 6MB (shared)
Total Cache (L2+L3): 8MB
Memory Controller Type: Integrated 128-bit wide memory controller *
Memory Controller Speed: Up to 2.0GHz with Dual Dynamic Power Management
Types of Memory Supported: Unregistered DIMMs up to PC2-8500 (DDR2-1066MHz) -AND- PC3-10600 (DDR3-1333MHz)
HyperTransport 3.0 Specification: One 16-bit/16-bit link @ up to 4.0GHz full duplex (2.0GHz x2)
Total Processor-to-System Bandwidth:
Up to 37.3GB/s total bandwidth [Up to 21.3 GB/s memory bandwidth (DDR3-1333) + 16.0GB/s (HT3)]
Up to 33.1GB/s total bandwidth [Up to 17.1 GB/s memory bandwidth (DDR2-1066) + 16.0GB/s (HT3)]
Packaging: Socket AM3 938-pin organic micro pin grid array (micro-PGA)
Fab location: GLOBALFOUNDARIES Fab 1 module 1 in Dresden, Germany (formerly AMD Fab 36)
Process Technology: 45-nanometer DSL SOI (silicon-on-insulator) technology
Approximate Die Size: 258 mm2
Approximate Transistor count: ~ 758 million
Max Temp: 62o Celsius
Nominal Voltage: 0.875-1.5V
Max TDP: 125 Watts