AMD 'Hawkfish' reference motherboard spotted with faster Southbridge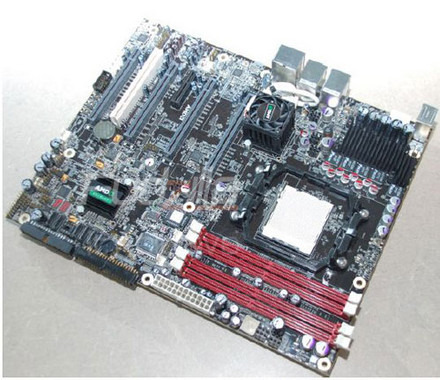 AMD are planning a refresh to their 790FX motherboard range that should satisfy power users and overclockers' demands for a better-performing Southbridge.  Currently 'boards using the 790FX chipset rely on the SB600 Southbridge, which in comparison to more recent chipsets has relatively poor PCI and SATA performance.  Fudzilla have found the reference design for the upcoming relaunch, which swaps out the SB600 for the newer SB750; codenamed "Hawkfish" it also includes broad RAID support and increased connectivity.
The reference is equipped with four PCI Express x16 slots, a single PCIe x4 slot and one PCI slot, six 300MB/s Serial ATA ports and one IDE port.  RAID levels 0, 1, 5 and 10 are all supported with no additional controller necessary.  AMD are describing the Hawkfish as using a "4+1" pulse-width modulation design; the guys at Fudzilla suggest that's good for running a 140W Phenom 9950 X4 quad-core at 2.6GHz.
No suggestion of release date, partners or pricing guidelines as yet.
[via The Tech Report]