AMD Fusion APUs debut at Computex 2010 [Video]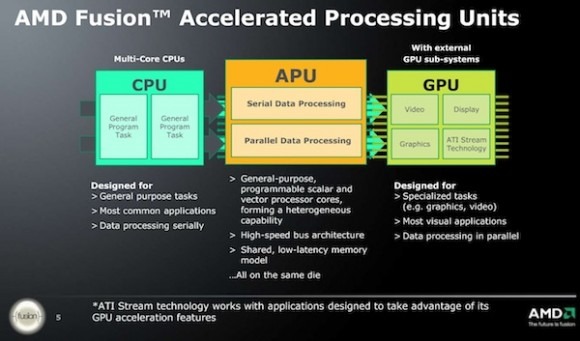 AMD have officially demonstrated their Fusion APU ("Accelerated Processing Unit"), in effect a combined CPU and GPU living on a single chip.  Fusion is capable of crunching through HD video and 3D graphics, including DirectX 11 games, and will first show up in Llano and Ontario form for mainstream desktop/notebooks and netbooks/tablets respectively.
Video demo and overview after the cut
The benefit is a more flexible chip capable of turning its hand to multiple different processing chores rather than simply offering key strengths in graphics, for example, together with reduced power consumption and cooler running.  There's a lot more about the technical advantages of Fusion APUs here [pdf link].
The first AMD Fusion APU chips are expected to launch in the first half of 2011. Meanwhile there's a new AMD Fusion Fund through which it seems the company will be investing in manufacturers that choose to adopt the Fusion APUs.  AMD will be looking at "application software and tool development, unique device designs, PC components and innovative ideas which extend the reach of collaborative computing on the CPU and GPU."
Press Release:
AMD Demonstrates World's First Fusion APU at Computex 2010
AMD Fusion technology preview offers glimpse into a sleeker, cooler, more vivid future for the computing experience; CPU and GPU on a single chip

AMD extends leadership with new desktops and notebooks powered by VISION technology

At Computex 2010, AMD (NYSE: AMD) today delivered the first public demonstration of an AMD Fusion processor, initiating the accelerated processing era. The AMD Fusion™ Family of Accelerated Processing Units (APUs) represents a significant shift in processor architecture and capabilities, combining high-performance serial computing and parallel graphics processing cores onto a single die to improve visual and data-intensive tasks that are pervasive in today's computing environments. A video of today's demonstration can be found here.

Rick Bergman, senior vice president and general manager, AMD Products Group, provided an APU technology demonstration during a press conference today. This demonstration provided a sneak peek into the upcoming seismic shift in the computing industry: power-efficient processors that combine CPU, GPU, video processing and other accelerator capabilities in a single-die design to efficiently power the most popular and demanding consumer experiences, from HD video applications to media-rich Internet experiences to DirectX® 11 games. The AMD Fusion Family of APUs represent a distinctly powerful processing approach to the evolving digital consumer landscape, where more than 28 billion videos are watched each month online and a thousand pictures are uploaded to social networking sites every second.

"Hundreds of millions of us now create, interact with, and share intensely visual digital content," said Rick Bergman, senior vice president and general manager, AMD Product Group. "This explosion in multimedia requires new applications and new ways to manage and manipulate data. Low resolution video needs to be up-scaled for larger screens, HD video must be shrunk for smart phones, and home movies need to be stabilized and cleaned up for more enjoyable viewing. When AMD formally launches the AMD Fusion family of APUs, scheduled for the first half of in 2011, we expect the PC experience to evolve dramatically."

Software Development

Consumers are hungry for applications that run faster and make digital media easier to enjoy, and a new wave of software innovation is taking place as AMD software partners take advantage of AMD APUs and GPUs to enable better experiences across an ever-widening set of content. Microsoft joined AMD on stage at Computex and discussed how AMD Fusion APUs can enable improvements to applications such as Microsoft® Windows® 7 and DirectX® 11, and how CPU and GPU collaborative computing can enable superior PC experiences.

"While visual computing has made incredible strides in recent years, we believe that the AMD Fusion family of APUs combined with Windows® 7 and DirectX® 11 will fundamentally change how applications are developed and used," said Steven Guggenheimer, corporate vice president, original equipment manufacturer division, Microsoft. "Applications such as Internet browsing, watching HD video, PowerPoint and more can enable more immersive, visually rich, and intuitive experiences for consumers worldwide."

In addition to Microsoft DirectX with DirectCompute, software developers can also build enhanced applications using OpenCL via the ATI Stream SDK, which further underscores AMD's commitment to industry standards.

AMD Fusion Fund

At Computex 2010, AMD also unveiled the "AMD Fusion Fund," a vehicle to make strategic investments in companies developing innovative solutions that will take advantage of the forthcoming AMD Fusion family of APUs. Additional details were disclosed on the AMD Fusion Fund in a separate announcement.

Extending Consumer and Graphics Leadership at Computex

With the launch of the AMD Fusion Family of APUs planned for the first half of 2011, AMD is positioned to extend the leadership it already has in the consumer PC market with VISION Technology from AMD and in the graphics market with the award winning ATI Radeon™ family of GPUs. At Computex, both product lines were on display for attendees, including many of the brand new VISION-powered SKUs recently launched by OEMs. In May, AMD announced a significant platform refresh for its VISION Technology, with as many as 135 new ultrathin and mainstream notebooks arriving on the market.