AMD FirePro W9000 GPU churns out 4 TFLOPS for $4k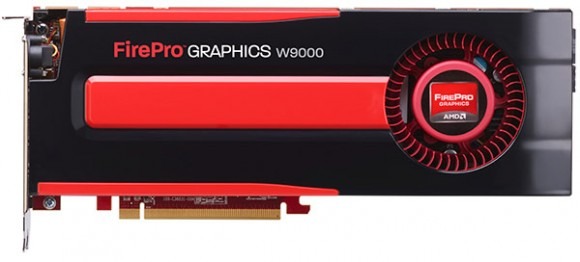 Top of the line gaming GPUs from the likes of AMD and NVIDIA may cost a pretty penny, but the price of the professional solutions that the companies offer will really make your eyes water. AMD has introduced the new $3,999 FirePro W9000 graphics card, with the company calling it the "world's most powerful." The GPU comes with 6GB of GDDR5 memory, can take advantage of 4 TFLOPS of single precision and a single TFLOP of double precision, and can shift a whopping 1.95 billion triangles per second.
The card is aimed at professionals working with complex models and graphics across multiple monitors, with AMD extending its Eyefinity support to allow the card to drive six 30-inch monitors, each with a 4K resolution. AMD has other models in the series as well, the W8000, W7000, and W5000. AMD claims that the W8000 is 2.2 times faster than the nearest competitor, the W7000 is five times faster in single precision compute mode, and that the W5000 "is the most powerful mid-range workstation graphics card ever created."
The W8000 is capable of 3.23 TFLOPS of single precision and 806 GFLOPS of double precision, powered by 4GB of GDDR5 RAM and commanding a price of $1,599. The W7000 is a mid-range solution capable of 2.4 TFLOPS of single precision and 152 GFLOPS of double precision with 4GB of RAM, costing $899, while the W5000 is the cheapest and least powerful of the four, capable of 1.27 TFLOPS of single precision and 80 GFLOPS of double precision, paired with 2GB of RAM and costing just $599.
AMD say that the four cards should be available via AMD resellers now. The cards are also compatible with Supermicro SuperWorkstations, utilizing PCI Express 3.0 along with AMD's ZeroCore power management.
[via Engadget]