AMD Embedded G-Series Puts Fusion APU In Set-Top Boxes, SFF PCs, More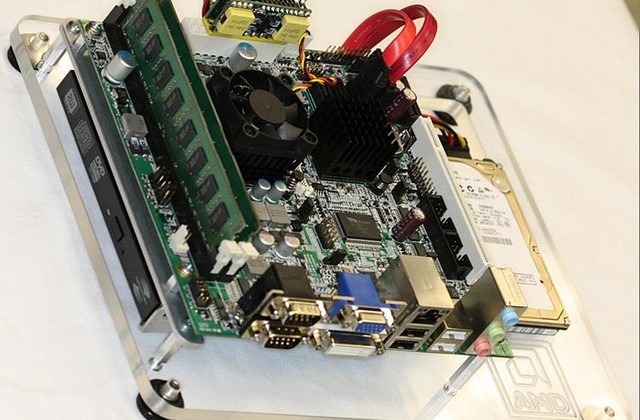 AMD's Fusion-based APU may have taken a while to reach the market, but it seems the company is wasting no time taking on Intel's Atom range for low-power applications. The latest is the AMD Embedded G-Series, an x86 Bobcat core with an integrated GPU and DirectX 11 support, designed to slot into set-top boxes, SFF PCs and more.
Video demo after the cut
The end result is a low power board – Bobcat is available in single- or dual-core versions, with TDPs of 9W and 18W respectively – that's still capable of hardware HD video decoding, 3D graphics and more. As we've seen with Intel's Atom-based CE4100, that can be a tempting option for streaming STB manufacturers; the CE4100 is at the heart of the Boxee Box by D-Link and Logitech's Revue.
Several companies have already signed up to use the new G-Series chips, including Fujitsu – who will use it in the D3003-S1 and D3003-S2 Mini-ITX boards – and Kontron – who will put it in three SFF PCs.
Press Release:
AMD Delivers the World's First and Only APU for Embedded Systems

The low-power AMD Embedded G-Series platform uniquely meets today's market trends, provides embedded market a brand new x86 core integrated with GPU and DirectX® 11 support

SUNNYVALE, Calif. —1/19/2011

AMD (NYSE: AMD) today announced immediate availability of the new AMD Embedded G-Series processor, the world's first and only Accelerated Processing Unit (APU) for embedded systems. The AMD Embedded G-Series, based on AMD Fusion technology, delivers a complete, full-featured embedded platform and incorporates the new low-power, x86 CPU based on the "Bobcat" core with a world-class DirectX® 11-capable GPU and parallel processing engine on a single piece of silicon.

This new class of accelerated processor combines more compute capabilities on a single die than any processor in the history of computing and represents opportunity for major advancements in embedded systems.

No solution with this level of advanced computing is available for the embedded market today.

Numerous embedded systems based on the AMD Embedded G-Series are available today or expected to launch in the coming weeks from companies including Advansus, Compulab, Congatec, Fujitsu, Haier, iEi, Kontron, Mitec, Quixant, Sintrones, Starnet, WebDT, Wyse, and many others.

Expected products include graphics-intensive solutions like digital signage, internet-ready set top boxes, mobile and desktop thin clients, casino gaming machines, point-of-sale kiosks, and small form factor PCs, as well as numerous single board computers (SBCs).

Shane Rau, research director of Computing and Storage Semiconductors at IDC, expects shipments of processors for embedded systems to increase at a double digit rate each year for the next five years.

This brand new platform continues AMD's mission to lower power, shrink physical component area, and reduce the costs of designing and producing x86 embedded systems.

"AMD's commitment is to ensure the game-changing technologies we develop for consumers and the enterprise are also available for the vast and growing embedded market," said Patrick Patla, corporate vice president and general manager, Server and Embedded Division, AMD. "Today, we have a record number of embedded launch partners. They are using the unique advancements of the AMD Embedded G-Series APU to develop a brand new generation of highly differentiated, energy-efficient, small form-factor embedded systems that can deliver the vivid visual experience expected in our always-connected world."

AMD has assessed many of the trends shaping today's embedded market, including the ever-pressing need for power efficiency and a small footprint, along with high CPU performance, full feature sets, and a strong graphics solution. The embedded market is one where differentiation can be critical to the long-term success of a design. The AMD Embedded G-Series APU provides a small, open and flexible platform where system designers can be creative yet still meet strict requirements around development cost.

Design and Development Support

The open development ecosystem for the AMD Embedded G-Series platform includes multiple BIOS options, support for various Microsoft Windows®, Linux, and real-time operating systems, the integrated OpenCLTM programming environment, and source-level debug tools.

AMD provides a dedicated design support team to help customers create distinctive new products and bring them to market quickly.

Online resources include an embedded developer portal, AMD embedded product selection guide and customer-submitted details on available boards and complete systems.

AMD Embedded G-Series APU Specifications

1 or 2 x86 "Bobcat" CPU cores with 1MB L2 cache, 64-bit Floating Point Unit

Up to 1.6GHz

9W and 18W TDP

Array of SIMD Engines

DirectX® 11 capable graphics

Industry-leading 3D and graphics processing

3rd Generation Unified Video Decoder

Power management features, including C6 and power gating

DDR3 800-1066 memory with support for 64 bit channel and 2 DIMMs

Ball Grid Array (BGA) package

890mm² physical footprint, including the AMD Fusion I/O Controller Hub