AMD A-Series unlocked APUs revealed plus new dual/quadcores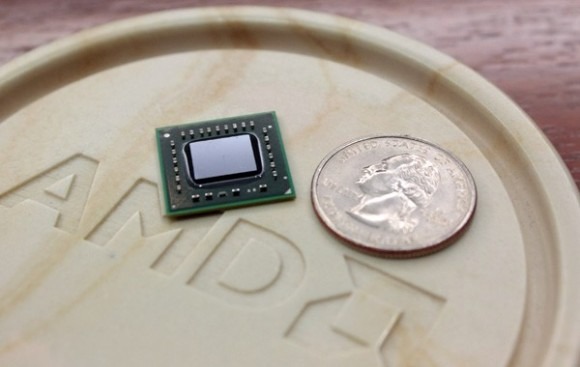 AMD has outed its latest A-Series desktop and notebook processors, with a thirteen-strong line-up of new dual- and quad-core Accelerated Processing Units (APUs). The new chips offer up to four x86 cores paired with up to 400 Radeon graphics cores, with dedicated HD video processing and AMD Steady Video, providing real-time smoothing and stabilization for jerky clips. Meanwhile, there are also the first ever unlocked APUs for overclocking enthusiasts.
The integrated graphics on the single APU chip can also be bolstered by a standalone AMD Radeon graphics card, delivering up to 144-percent more performance when the A-Series is paired with an HD 6500 Series GPU. There's also Internet Explorer 9 integration for Steady Video, offering smoother streaming video playback.
As for unlocked models, the AMD A8-3870K and A6-3670K APUs can be overclocked by up to 500MHz for the CPU and 200MHz on the GPU.
AMD's first new A-Series desktop APUs will begin showing up in commercial systems and as standalone components from today, the company tells us. The A8-3870K has an RRP of $135 while the A6-3670K has an RRP of $115.
AMD A-Series Desktop APUs
A8-3870K: Four CPU cores, 3.0 GHz CPU base (unlocked), 100W TDP, 400 Radeon cores, 600 MHz GPU base (unlocked), 4 MB L2 cache

A8-3820: Four CPU cores, 2.5 GHz CPU base (2.8 GHz Turbo Core), 65W TDP, 400 Radeon cores, 4 MB L2 cache

A6-3670K: Four CPU cores, 2.7 GHz CPU base (unlocked), 100W TDP, 320 Radeon cores, 600 MHz GPU base (unlocked), 4 MB L2 cache

A6-3620: Four CPU cores, 2.2 GHz CPU base (2.5 GHz Turbo Core), 65W TDP, 320 Radeon cores, 4 MB L2 cache

A4-3420: Two CPU cores, 2.8 GHz CPU base, 65W TDP, 160 Radeon cores, 1 MB L2 cache
AMD A-Series Notebook APUs
A8-3550MX: Four CPU cores, 2.0 GHz CPU base (2.7 GHz Turbo Core), 45W TDP, 400 Radeon Cores, 4 MB L2 cache

A8-3520M: Four CPU cores, 1.6 GHz CPU base (2.5 GHz Turbo Core), 35W TDP, 400 Radeon Cores, 4 MB L2 cache

A6-3430MX: Four CPU cores, 1.7 GHz CPU base (2.4 GHz Turbo Core), 45W TDP, 320 Radeon Cores, 4 MB L2 cache

A6-3420M: Four CPU cores, 1.5 GHz CPU base (2.4 GHz Turbo Core), 35W TDP, 320 Radeon Cores, 4 MB L2 cache

A4-3330MX: Two CPU cores, 2.2 GHz CPU base (2.6 GHz Turbo Core), 45W TDP, 240 Radeon Cores, 2 MB L2 cache

A4-3320M:Two CPU cores, 2.0 GHz CPU base (2.6 GHz Turbo Core), 35W TDP, 240 Radeon Cores, 2 MB L2 cache

A4-3305M:Two CPU cores, 1.9 GHz CPU base (2.5 GHz Turbo Core), 35W TDP, 160 Radeon Cores, 1 MB L2 cache

E2-3000M: Two CPU cores, 1.8 GHz CPU base (2.4 GHz Turbo Core), 35W TDP, 160 Radeon Cores, 1 MB L2 Cache