AMD 2014 notebook & tablet APUs add secure ARM brain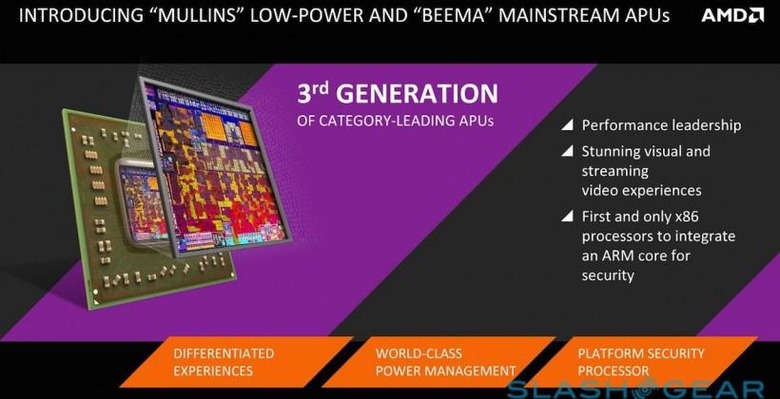 AMD has outed its latest 2014 Mainstream and Low-Power mobile APUs, its combination processor and graphics chipsets for notebooks and ultraportables, and for the first time baking in an ARM chip to handle dedicated security duties. The new SoCs – formerly known as Beema and Mullins – promise not only the usual cut in power consumption as well as a bump in both graphics and processing power, but Android app support on Windows using BlueStacks.
The Low-Power Mobile APUs – which AMD envisages heading to tablets, ultraportables, and 2-in-1s – have over twice the graphics performance per watt, and nearly twice the productivity performance per watt, as last year's Temash chips. There'll be three SoCs initially: the E1 Micro-6200T dualcore with a 3.95W TDP and 1.4GHz CPU, then A4 Micro-6400T and A10 Micro-6700T quadcore chips, each with a 4.5W TDP, and running at 1.6GHz and 2.2GHz respectively.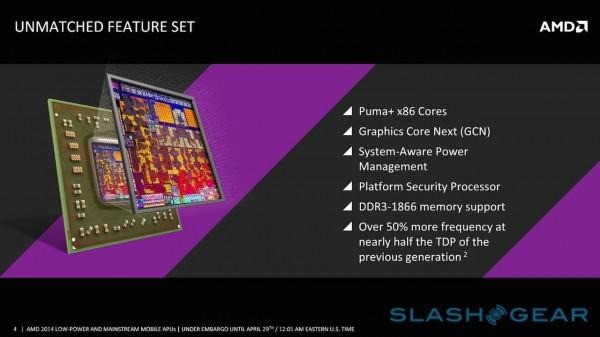 That, AMD claims, makes them three times more powerful in compute than Intel's corresponding Atom processors, and offers better graphics performance than a Core i3.
As for the Mainstream Mobile APUs, there'll be four on offer. The E1-6010 and E2-6110 are dualcore and quadcore respectively, running at 1.35GHz and 1.5GHz, and coming in at 10W and 15W. Then there's the A4-6210 and A6-6310, both 15W TDP quadcores, at 1.8GHz and 2.4GHz respectively.
AMD says the Mainstream chips cut power by 20-percent over their predecessors, despite as much as doubling graphics performance; compared to Intel's range, there's up to a 50-percent better showing in graphics, and up to 7x the compute performance, versus a "Haswell U" Pentium chip.
What Intel definitely doesn't have is AMD's new TrustZone system, for the first time adding an ARM chip – in this case a Cortex-A5 – to the APU which effectively splits each processor into two virtual CPUs. One is left as normal, for everyday compute on things like Office and games. The other, however, is encrypted for online banking, antivirus apps, digital payment services, and similar.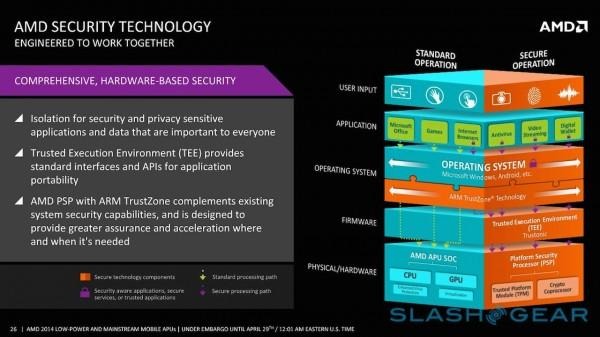 Without the TrustZone chip's permission the x86 cores themselves can't boot. It also has a dedicated crypto-coprocessor and its own dedicated chunk of ROM and SRAM, separate from the rest of the notebook, though it can also access the system memory and other hardware.
There's also Intelligent Boost, AMD's equivalent of Intel Turbo Boost. It takes a more measured approach to increasing system speed, based not just on when apps are maxing out the processor clock, but whether they'll actually benefit from overclocking to a higher frequency.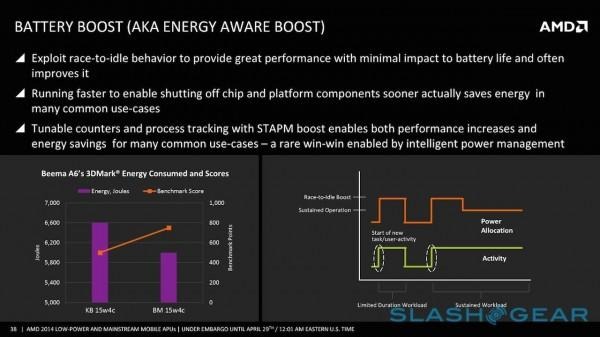 Only certain apps will kick Intelligent Boost into action, then, and AMD also uses what it's calling "skin temperature aware power management" that relies on the expected comfort around heat of the person holding the device to decide how long overclocking can go on for. AMD even suggests that this rapid cycling of power modes will prolong battery life, since the rest of the system can quickly go back to sleep when the boosted processor has more swiftly done its crunching.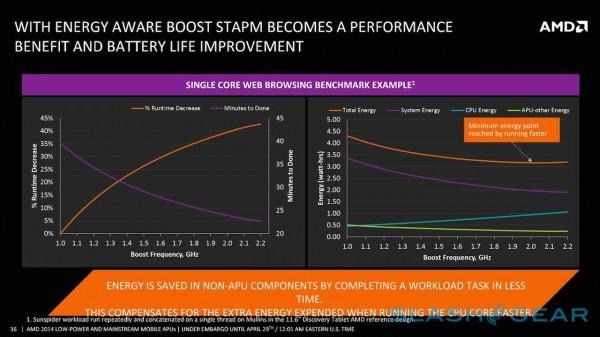 AMD expects the first PCs using the new APUs to be on shelves over the coming months from Samsung, Lenovo, and others. The company also has a range of new reference designs – dubbed the Discovery Platform – to demonstrate Beema and Mullins' potential, including a tablet with desk and gaming controller docks, and a smartphone-sized ultrathin desktop PC.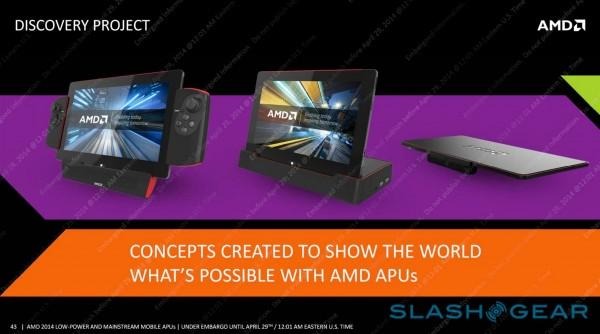 Meanwhile, there'll be a new flagship "Kaveri" APU expected sometime mid-year.