Ambiance Technologies Digibook ADB-106 ebook reader teases with wireless icon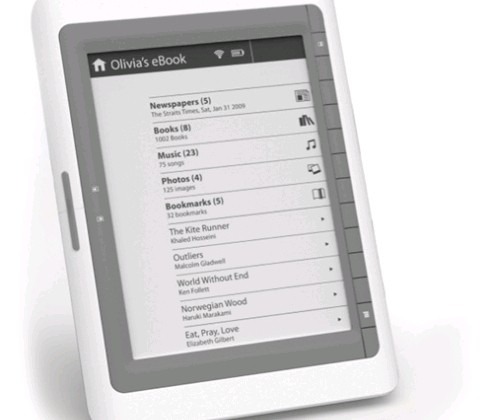 It's getting increasingly crowded in the ebook reader market, and it's too early to say whether Ambiance Technologies' Digibook ADB-106 has what it takes to stand out.  Going from the scant information on the spec sheet [pdf link] there's not a huge amount to see here – 6-inch 16-gray-level e-ink display with a column of shortcut buttons down the side, SD card slot and MP3 playback – but the wireless icon has us wondering whether Ambiance have squeezed in WiFi without telling us.
WiFi – or indeed any other type of wireless – doesn't get a mention at Ambiance or at the Expansys pre-order page, where the Digibook ADB-106 is listed for £229.99 ($383).  Without it, it's a pretty basic device and doesn't really offer anything above or beyond other non-connected ebook readers: 7,000 page turns on a single battery charge, reasonable image format support (JPEG, GIF, BMP, TIF and PNG) and a supplied stereo headset.
Still, it supports a decent array of ebook types – TXT, PDF, EPUB, RTF, TCR, PDB, PRC,MOBI, OPF, OEB,HTM, HTML, CHM,FB2, DJVU, IW44, IW4, DJV – and at 9.9mm thick it's pretty portable.  We'll have to wait for the first units to ship to discover whether wireless has been slotted in too.
[via MobileRead]