AmazonBasics threatens to undercut with own-brand cables & media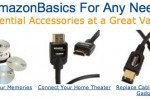 We may receive a commission on purchases made from links.
After pretty much changing the face of online shopping, Amazon have given themselves a new challenge in the shape of AmazonBasics.  A range of "essential accessories", including A/V and computer cabling and blank media, AmazonBasics all come in the company's "frustration-free packaging".
For instance, AmazonBasics offers a 1.8m USB 2.0 A to mini-USB B cable for $2.69, or a 9.8 feet High Speed HDMI cable for $8.35.  Meanwhile an Ultra High Speed HDMI comes in at $34.98 (for 6.5 feet).  50 CD-R discs are $15.10, while 50 DVD+R DL 8.5GB discs are $35.05.
AmazonBasics are available on the company's US site now, and they're apparently planning a roll-out to other international sites in the coming months.  Meanwhile they'll also be adding to the original range of products.
Press Release:
Amazon.com Introduces AmazonBasics

New private-label line gives customers quality consumer electronics at lower prices – and in easy-to-open, Amazon Frustration-Free Packaging

SEATTLE–(BUSINESS WIRE)–Sep. 19, 2009– Amazon.com, Inc. (NASDAQ:AMZN) today announced the launch of AmazonBasics (www.amazon.com/AmazonBasics), a new private-label collection of consumer electronic "basics" created for customers who want exceptional value. The AmazonBasics line currently includes audio video cables and blank DVD media, with additional accessories and other items to be added in the coming months.

"We saw an opportunity to create a line of consumer electronics basics that combine quality and low prices for an overall focus on value," said Paul Ryder, vice president of Consumer Electronics for Amazon.com. "We drew on our history of developing other private-label brands and combined that with our mission to give customers the ultimate in selection and value. AmazonBasics is the result. We will continue to gather input from customers and evaluate opportunities for new products under the AmazonBasics brand. We aim to offer our customers as wide a selection as possible, and we think AmazonBasics makes a great addition to the brands we already carry."

The AmazonBasics line currently features a growing assortment of blank DVD media, cables and accessories, which are available now in the U.S. on www.amazon.com, with plans to introduce the line on Amazon's international sites over the coming months.

All AmazonBasics products ship in Amazon.com's Frustration-Free Packaging (www.amazon.com/frustration-free), which is easy-to-open and made from recyclable cardboard, alleviating plastic clamshells, wire ties and excessive packaging. AmazonBasics products are eligible for FREE Super Saver Shipping or FREE Two-Day Shipping with Amazon Prime (www.amazon.com/prime). Like all products sold on Amazon.com, customers can compare prices, do research, read customer reviews and see what other customers have purchased after viewing these products. AmazonBasics products include a one-year warranty.