Amazon Xbox LIVE Store beta opens its virtual doors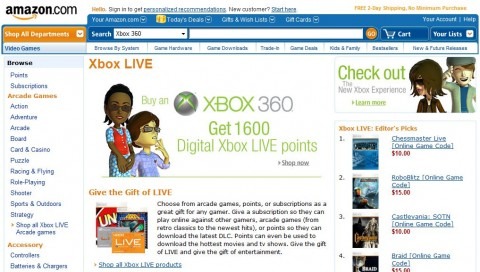 We may receive a commission on purchases made from links.
Amazon have launched the Amazon Xbox LIVE Store beta, the first place outside of the console itself (or its official site) where Xbox LIVE games can be bought.  In addition, the store will sell subscription cards and Microsoft Points cards, for instant downloads or gifting to others via email.
The store will also use Amazon's notorious recommendation system, prompting shoppers with similar game titles to those they already own or have rated.  Gifts can include Xbox LIVE points or full subscriptions, or specific titles.
There are currently over 100 titles – including "Braid" and "Castle Crashers" - to download immediately.  It remains to be seen what the non-beta launch of the store will bring with it.
Press Release:
Amazon.com Launches Xbox LIVE Store, Offering Customers Convenient Digital Access to Xbox LIVE Arcade Games, Subscription Cards, and Points Cards

Amazon is the First Retailer to Offer Codes for Downloading Xbox LIVE Games

SEATTLE, Apr 08, 2009 (BUSINESS WIRE) — Amazon.com, Inc.

(NASDAQ:AMZN) today launched the Amazon Xbox LIVE(R) Store beta, www.amazon.com/xboxlive, offering customers the convenience to purchase and gift select Xbox LIVE games, subscription cards and Microsoft Points cards. Previously games were only available directly from the Xbox 360(R) console or xbox.com, making Amazon.com the first retailer to offer customers digital access to codes for downloading Xbox LIVE Arcade games. Customers can choose from fan-favorite titles including "Braid," "Castle Crashers" and over 100 other games.

"PC gamers have enjoyed the convenience of digital downloads on Amazon.com for some time. Now Amazon.com and Microsoft are bringing that same level of convenience to platform gamers by expanding the reach of the Xbox LIVE digital platform to millions of Amazon customers," said Greg Hart, vice president of Video Games and Software for Amazon.com. "This is an exciting day for Amazon.com customers, and we will continue to drive innovation that will provide our customers with the widest selection of video game platform downloads."

"This partnership brings together two leading online brands – Xbox LIVE as the entertainment center of the living room and Amazon.com, a retailer that consumers rely on for great deals and wide selection," said Christina DeRosa, general manager, Xbox LIVE Business. "With the overwhelming success of our existing Xbox LIVE Marketplace, it is clear that the 17 million active and engaged members of the Xbox LIVE community enjoy digital access to entertainment content. Now we're happy to be extending our storefront to Amazon.com, a cutting-edge online retailer who is helping make digital distribution more mainstream."

Through the Xbox LIVE Store, Amazon.com customers can easily buy Xbox LIVE Arcade games, subscriptions and Microsoft Points cards for themselves or friends and family. Points can be used to buy games in the Xbox 360 online Marketplace. The Amazon.com Xbox LIVE Store works on a code-redemption system where customers who purchase an Xbox LIVE product will immediately be able to view their Xbox LIVE code after purchase as well as e-mail that code to themselves or the recipient of the gift. Additionally, this code will reside in the customer's Your Games & Software Library so they can retrieve it at any time. This digital delivery mechanism eliminates both the waiting time for the customer as well as reduces the waste associated with shipping packaged games and points cards. Customers can leverage Amazon's recommendation and personalization engine to learn about new games that they also may be interested in based on similar purchase histories of like-customers.

Xbox LIVE games, subscription cards and Microsoft Points cards are sold by Amazon Digital Services, Inc.