Amazon will close all US Pop-Up kiosks and focus on other stores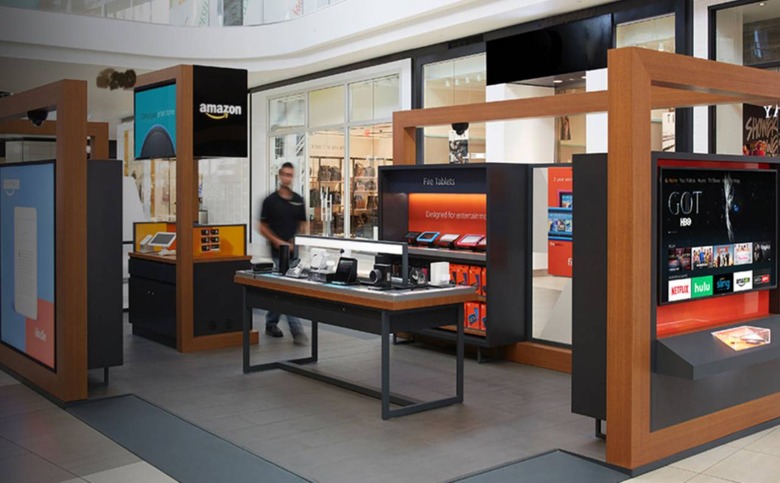 Amazon has dozens of Pop-Up stores located around the US, enabling potential customers to try out the company's hardware devices before they make a purchase. These stores are small, as their name indicates, and can be found in other, larger destinations, such as malls and Whole Foods stores. That will change soon, according to a new report, with Amazon shutting down all of its Pop-Up locations.
Amazon confirmed the plan to the Wall Street Journal, stating that it has decided to discontinue the Pop-Up kiosk program. At this time, the company has 87 of these miniature showrooms across more than 20 states. The kiosks are joined by an Amazon 4-Star store recently launched in New York, its Amazon Books stores, and Whole Foods grocery stores.
The Pop-Up stores closures won't mark the end of Amazon's brick-and-mortar efforts, however. An Amazon spokesperson said the company will be focusing on expanding its Amazon 4-Star and Amazon Books destinations instead of putting more effort into the kiosks. The company's Amazon Go cashier-free convenience stores have slowly expanded into new markets, as well.
Though Amazon is still largely an online retailer, the company has experienced success with its growing number of physical destinations; according to NYT, its stores brought in a revenue of $17 billion in 2018. The Pop-Up program's end hints at an evolution of Amazon's business strategy.
Online shopping has a number of very real advantages, but it's primarily great for items where viewing them in person isn't necessary: OTC medication and supplements, packaged food items, pet supplies, and similar items. Physical stores remain superior for select other types of products, however, including clothing, which is notoriously difficult to assess on a screen. When it comes to these types of purchases, Amazon faces stiff competition from retailers like Walmart.