Amazon Vehicles is a new destination for car shoppers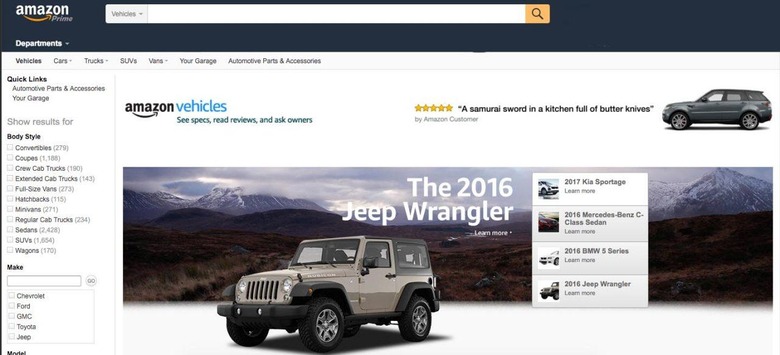 We may receive a commission on purchases made from links.
Amazon has announced a new destination targeted at car enthusiasts called "Amazon Vehicles." The platform allows Amazon users to explore vehicles using a bunch of different filtering options, such as body type, make and model, mileage ratings, transmission type, and more. It's the ultimate window shopping for cars, allowing one to find a vehicle, customize it, and see how much it costs.
Amazon Vehicles is something like a research destination for those in the market for a new car. The service collects owner reviews of vehicles, shows specifications, allows for customization (seeing the vehicle in different color options, for example), and more. Users are also able to ask other users questions about vehicles the same way questions can be asked about other products on Amazon.
As an example, clicking on the 2016 Toyota Camry shows color options, photos of the vehicle (both inside and out), the model's starting price, and its pertinent details, such as trim options and what each of them offer. Those who own the model can add it to their 'garage' to more easily find parts, accessories, and more.
Speaking about the new service, Amazon's automotive director Adam Goetsch said:
Our goal is to support customers during one of the most important, research-intensive purchases in their lives by helping them make informed decisions every step of the way. Amazon Vehicles is a great resource for customers who are interested in car information or looking for a broad selection of parts and accessories – all enhanced by the ability to tap into the knowledge, opinions, and experiences of other car owners within the Amazon customer community.
SOURCE: Amazon