In April 2018, Amazon introduced Alexa Skill Blueprints, a tool that allows Echo owners to create their own custom skills for the assistant. These skills are linked to the user's Amazon account and are kept private, but the company announced a change today that'll make it possible to share your skills with other Alexa users. The custom skills can be published in the Alexa Skills Store for US customers to find and download.
READ: Alexa Skill Blueprints let anyone create personalized experiences
Alexa's abilities have grown drastically over the last few years via tens of thousands of skills in its related store. Blueprints was a game changer for some users, however, making it possible to create skills useful to their own particular situation. Someone could, for example, create an Alexa skill that provided guests with the WiFi password or directions to the bathroom.
Starting today, Alexa users in the United States have the option to create their own skills and then publish them for other users to access. This new ability extends to organizations, businesses, and brands, as well, so that they can create skills useful to their customers or visitors.
Amazon provides some examples of Skill Blueprints' usefulness, explaining that a personal trainer or gym could, for example, use a Personal Trainer blueprint for providing motivational messages or specific routines. In the same way, there are Blueprints available that will benefit educators, creative individuals, and more.
What's New
Joining the Skill Blueprints roster is a new blueprint designed for bloggers, content creators, and organizations. There's a new "Spiritual Talks" blueprint, for example, for sharing audio (both live and recorded) with the public via Alexa. The new "University" skill offers the same functionality, though obviously targeting different institutions.
These two new blueprints support audio feed URLs, and creators have the option of adding both intro and exit messages to the skills. Assuming the created skills pass review and get certified, followers and customers will be able to use them to access the organization's audio content using an Alexa command.
In regards to bloggers, there's a new "Blog" blueprint that works with WordPress to make blog posts available through Alexa. Written content is read to users via text-to-speech tech and, if necessary, translation tools. As well, users have the option to create and publish their own flash briefing update via the "Flash Briefing" blueprint; this option likewise supports recorded audio feed URLs, as well as live audio and uploaded recorded content.
How to use Skill Blueprints
Amazon enables users to create their own Skill Blueprints using its dedicated blueprints.amazon.com website. Users are provided with half a dozen blueprint categories offering dozens of templates. There's no coding necessary; instead, users can edit the pre-filled template content and customize it to meet their needs.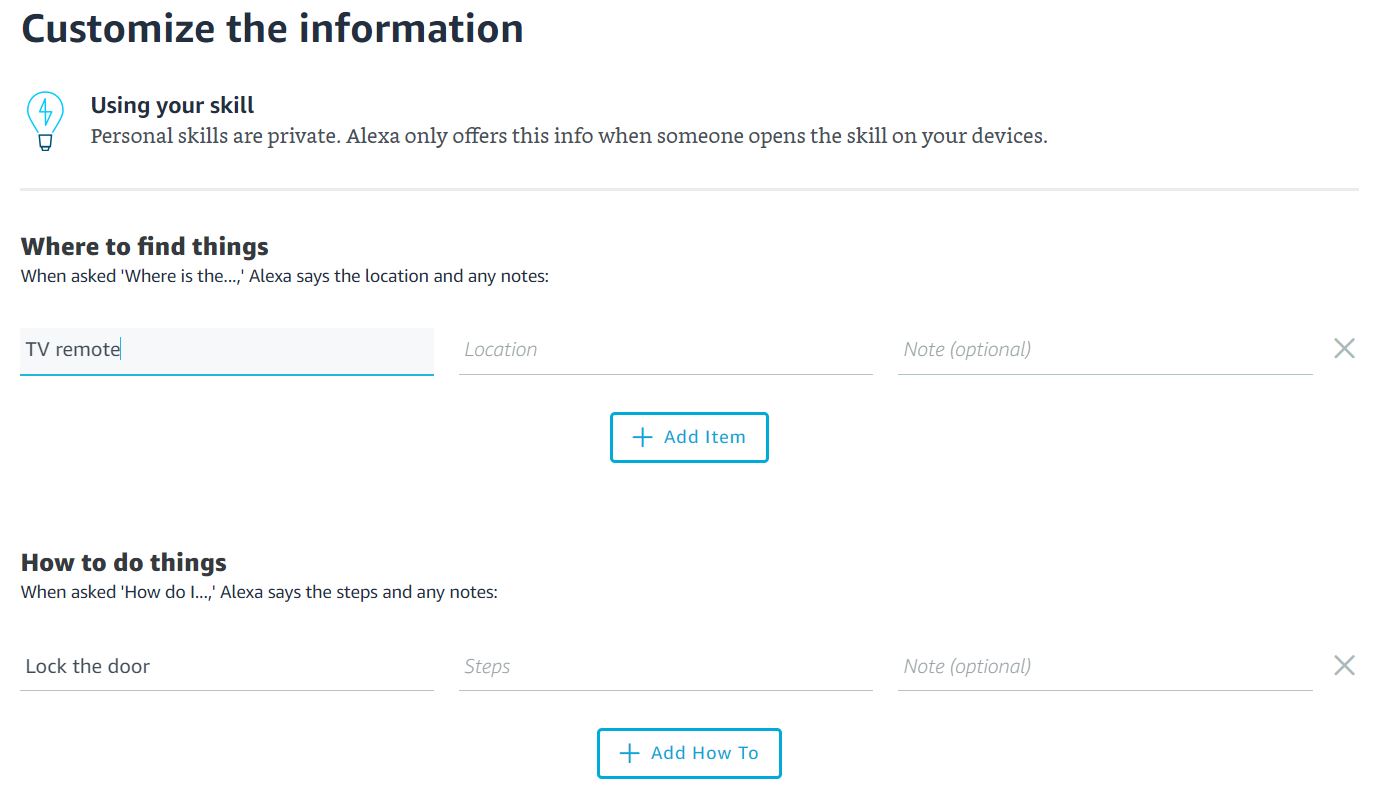 As the image above shows, users are guided through the blueprint template with simple, modifiable fields. Each template varies based on what skill it produces, but can be easily figured out by reading each field and looking at the pre-filled examples.
Once the template has been modified according to the user's needs, they have the option to keep the skill personal for their own use or to share it with others, which can include publishing it to the skill store. Any published skill will be reviewed by Amazon before it goes live, however.