Amazon US & International Kindle debuts (but it's not perfect)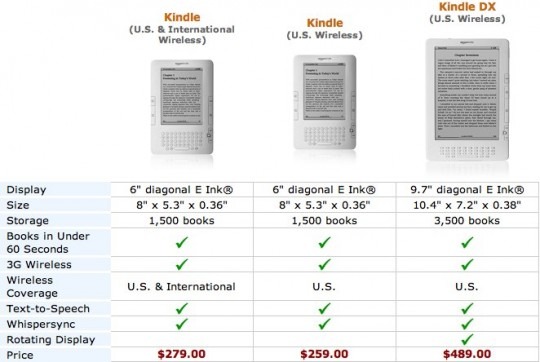 We may receive a commission on purchases made from links.
Amazon have
an international launch for their
ebook reader.  The
gains both US and international 3G capabilities – though still no WiFi – and will ship both domestically in the US and to 100 different countries worldwide.  Priced at $279 and shipping October 19th, the International Wireless Kindle is now $20 more expensive than the original US-only Kindle, which has been discounted to $259; otherwise the two devices are identical.
US customers will still be able to buy the larger Kindle DX, though for the moment there's no international version.  While all this sounds great, there are a few signs that the US and International Kindle may be more US-centric than foreign; for instance, they ship direct from the US rather than any of the 100 countries Amazon are now claiming compatibility for, so buyers will be responsible for shipping, import taxes and duty fees.  A UK buyer, for instance, can expect $20.98 shipping and $45 in fees, bringing the total cost to $344.98.
It will also come with a US power adapter, all books and periodicals are still priced in US dollars, and both blog access and the internet browser are not functional outside of the US.  Amazon seem to be using AT&T's roaming service to gain access worldwide, hence the limitations on potentially data-hungry applications.  It's a nice attempt, but it feels something of a halfway measure by Amazon; perhaps they're having more trouble browbeating European carriers than they usually do with the US networks?
Press Release:
Amazon Lowers Price on #1 Bestseller Kindle to $259 and Introduces New Addition to the Kindle Family of Wireless Reading Devices-Kindle with U.S. & International Wireless

#1 bestseller Kindle now $259,

Kindle with U.S. & International Wireless now available for pre-order at $279 and ships Oct. 19

SEATTLE—October 7, 2009—Amazon.com, Inc. (NASDAQ: AMZN) today announced that it is lowering the price of its #1 bestseller Kindle to $259, down from $299. Also today, Amazon.com introduced a new addition to its family of portable reading devices—Kindle with U.S. & International Wireless. Kindle with U.S. & International Wireless now enables readers to wirelessly download content in over 100 countries and territories. Readers can pre-order Kindle with U.S. & International Wireless starting today for $279 at www.amazon.com/kindle and it ships October 19.

"Kindle is the most wished for, the most gifted, and the #1 bestselling product across the millions of items we sell on Amazon, and we're excited to be able to lower the price," said Jeff Bezos, Amazon.com Founder and CEO. "We're also excited to announce a new addition to the Kindle family—Kindle with global wireless. At home or abroad in over 100 countries, you can think of a book and download it wirelessly in less than 60 seconds."

Kindle wirelessly downloads books, newspapers, magazines, blogs, and personal documents to a crisp, high-resolution 6-inch electronic ink display that looks and reads like real paper. Kindle utilizes the same 3G wireless technology as advanced cell phones, so you never need to hunt for a Wi-Fi hotspot or sync with a PC. Readers can wirelessly shop the Kindle Store, download books in less than 60 seconds, automatically receive newspaper and magazine subscriptions, receive personal documents, and read from their library—now in over 100 countries and territories.

"Kindle has revolutionized the way we purchase and read books, by making it mobile, easy and intuitive," said Randall Stephenson, chairman and chief executive officer of AT&T. "We are excited to work with Amazon to help readers access books even faster and from significantly more places than ever before, including more than 100 countries and territories around the world through AT&T's global wireless coverage."

The U.S. Kindle Store (www.amazon.com/kindlestore) now has more than 350,000 books, including New Releases and 104 of 112 New York Times Bestsellers, which are typically $9.99 or less. More than 75,000 books have been added to the U.S. Kindle Store in just the last five months. Starting today, Lonely Planet guides are now available in the Kindle Store, joining existing travel guide selection from publishers Rick Steves, Frommers and Michelin.

"Lonely Planet is excited to make a vast selection of travel guides from Australia to Zanzibar available to Kindle customers around the world," said Lonely Planet CEO Matt Goldberg. "Travelers can now pack as many Lonely Planet guides as they want into Kindle's 10.2 ounces and download new guides wirelessly while travelling around the world."

Over 50 top U.S. and international newspapers such as The New York Times, The Wall Street Journal, USA Today, The Washington Post, Financial Times, The Times (UK), Le Monde, Frankfurter Allgemeine Zeitung, and the Shanghai Daily are available in the Kindle Store for single purchase or subscription, and can now be delivered wirelessly in over 100 countries and territories. Over 35 top magazines, such as The Economist, Newsweek, Time, The New Yorker, Foreign Affairs, The Atlantic, Forbes, Fortune, PC Magazine, and The New England Journal of Medicine are also available for single purchase or subscription, and can also be delivered wirelessly in the U.S. and abroad. U.S. Kindle customers can also continue to take advantage of the Kindle Store's selection of over 7,000 blogs and receive new posts while traveling overseas.

Kindle with U.S. & International Wireless offers customers the same features that have helped make Kindle with U.S. Wireless the #1 bestselling product on Amazon.com, including:

Slim and Trim: At just over a third of an inch thin (0.36 inches) and weighing just over 10 ounces, Kindle is pencil thin and lighter than a typical paperback.

Reads Like Real Paper: Kindle's 6-inch electronic ink display reads like printed words on paper because the screen works using real ink and doesn't use a backlight, eliminating the eyestrain and glare associated with other electronic displays.

Stores Up To 1,500 Books: Kindle's 2 GB of memory holds up to 1,500 books and Kindle books are automatically backed up by Amazon so customers can re-download titles from their library.

Read For Weeks On A Single Charge: Kindle's electronic ink display sips battery power so users can read for over two weeks with wireless turned off and up to four days on a single charge with wireless on.

Read-To-Me: With the experimental Text-To-Speech feature, Kindle can read most newspapers, magazines, blogs, and books out loud.

Automatically Syncs With Kindle and Kindle Compatible Devices: Amazon's "Whispersync" technology automatically syncs customers' last page read, bookmarks, notes, and highlights across Kindle with U.S. & International Wireless, Kindle with U.S. Wireless, Kindle DX, and Kindle compatible devices like Kindle for iPhone.

Wirelessly Receive and Read Personal Documents: Wirelessly send, receive, and read personal documents in a variety of formats such as Microsoft Word and PDF.

Instant Dictionary Lookup: Kindle comes with the New Oxford American Dictionary and over 250,000 definitions that appear instantly at the bottom of the page.

Choose Text Size: Kindle lets readers customize their reading preference by providing six different text sizes.

Bookmarks, Notes, and Highlights: By using the QWERTY keyboard Kindle users can add annotations to text, as well as highlight and clip key passages and bookmark pages for future use.

Kindle with U.S. & International Wireless will be available for shipment to customers in over 100 countries around the world on October 19. Media can visit the Kindle Media Room at http://www.amazon.com/pr/kindle for additional media resources and to request an interview.