Amazon updates Fire Phone with Android 4.4 KitKat features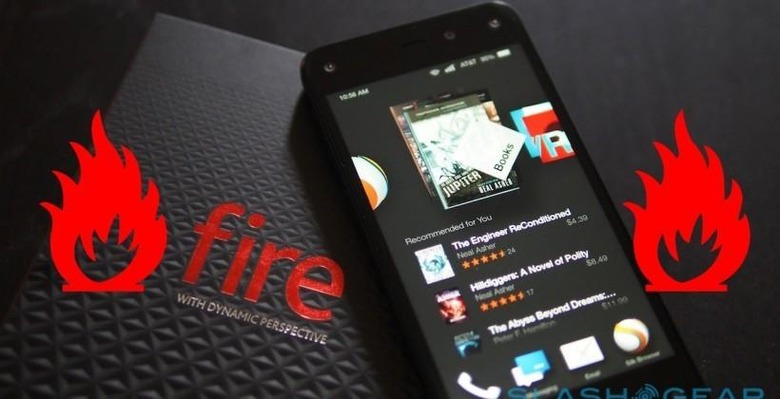 We may receive a commission on purchases made from links.
Amazon has been relatively quiet on its Fire Phone, which isn't really unexpected given the flak it received over the lackluster and disappointing gadget. Today, however, the retailer giant has deigned to shower some love on its first and so far only smartphone, with a rather hefty Fire OS 4.6.1 update. The changelog is quite long and the new features quite substantial. But somewhat amusingly, Amazon makes no mention of probably the biggest highlight of the release: upgrading the Fire Phone to Android 4.4 KitKat.
The Fire Phone launched with only Android 4.2 inside, which was already late even by the time the smartphone debuted. Considering Amazon doesn't really advertise that its Fire OS is based on Android, perhaps it isn't surprising it makes no mention of this major upgrade after all. But the presence of KitKat is quite palpable. Features like support for Bluetooth Low Energy and Cloud Printing, for example, only came when Android 4.4 arrived on the scene.
The update also brings in a whole host of user experience improvements, like (finally) the ability to clear your call history or swiping to delete messages. Some features seem almost too basic to have not been available from the beginning, like setting a color for a calendar event or changing the Home screen wallpaper. There are even features that have been designed just for fun, like colored emojis on the keyboard.
• Support for Bluetooth Low Energy

Fire phone now supports Bluetooth Low Energy technology.

• Change the wallpaper on the Home screen

You can now change the Home screen wallpaper to a different color or use your own image.

• Lock screen notification improvements

View previews of new notifications on the lock screen and manage which apps can show previews on the lock screen.

• Additional keyboard options

Amazon's keyboard now includes color emoji. Choose from hundreds of emoji characters to make your e-mail and multimedia messages fun and personal. You can also change the default keyboard on your Fire phone with another compatible keyboard downloaded from the Amazon Appstore.

• Convert video clips into lenticular images and set HDR to auto

Record video clips and automatically convert them into a lenticular image to share with others or use on the lock screen. With HDR turned to auto, your phone's camera also determines whether a scene needs HDR and captures it to create a rich, detailed image.

• Smarter calling options

Manage up to five people on a conference call, delete all previous calls in your history, and more.

• Messaging improvements

Delete or forward multiple messages in a conversation, swipe to delete conversations in your Inbox, and modify your messaging settings with new options, such as the ability to change the text size of your messages.

• Choose different colors for calendar events

If you have multiple e-mail accounts synced with your phone, you can assign a color for each account. When you select a new color for an account, your calendar events appear in that color.

• Print from your Fire phone

You can now print personal documents, e-mails, contact details, and calendar events from your Fire phone to your compatible HP, Epson, or Canon printers.

• Enhanced enterprise features

With support for secure work Wi-Fi networks, single sign-on for corporate networks, and AES-256 bit hardware encryption, your Fire phone is ready for more work.

• Accessibility improvements

Easily manage your closed caption settings across the device and enjoy new Screen Reader features—such as independent volume controls and faster reading speed options—when you use the accessibility options on your Fire phone.

• Bug fixes and user interface improvements

Dozens of other bug fixes and user interface improvements.
Fire Phone owners should be getting notified of the update to Fire OS 4.6.1 already, in which case they can try updating the firmware over the air. If not, Amazon provides the option to download the update on a PC and perform the process via a USB connection. Since this is quite a major update, backups are extremely recommended.
SOURCE: Amazon