Amazon unveils its first 4K Fire TV Edition smart TV with Dolby Vision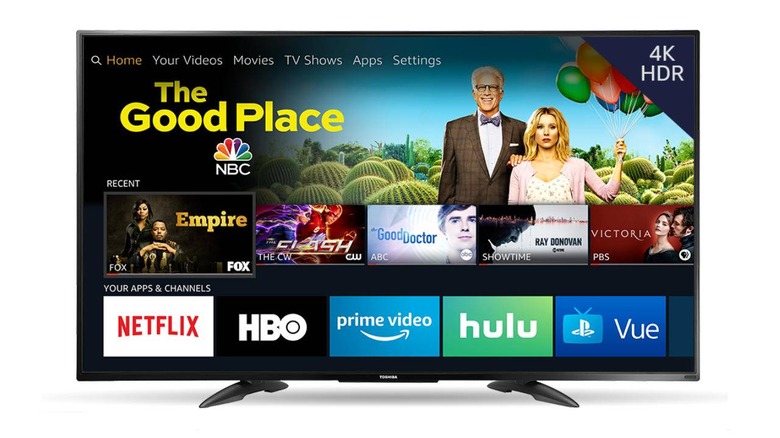 Amazon has announced the first Fire TV Edition smart TV that features Dolby Vision HDR, offering consumers what Amazon calls 'ultra-vivid' image quality. As with existing Fire TV Edition smart TVs, the new 4K model offers the Fire TV experience without the need for a separate stick or box, as well as integration with over-the-air television.
The Amazon Fire TV Edition smart TV is similar to Roku smart TVs — both eliminate the need to use a separate device to get the streaming box experience. There are advantages to these TVs, particularly for cord-cutters who will appreciate the over-the-air integration offering OTA channels on the same home screen as streaming apps and games.
The latest smart TV model comes from Toshiba, one of Amazon's manufacturing partners. The company has kicked things off with today's release of the 55-inch version, but it will be joined starting later this month by 43-inch and 50-inch options. As with competing TVs, the new Fire TV Edition models are budget-friendly at $329, $379, and $449 USD.
The new Fire TV Edition from Toshiba features an RF antenna port, as well as three HDMI ports, one USB port, Ethernet, a standard 3.5mm headphone jack, one analog audio port, and dual-band WiFi. As with past Fire TV Edition smart TVs, the new model has a voice remote offering direct access to Alexa.
The OTA TV integration aside, users get the same Fire TV experience offered by other Fire TV devices. The platform provides direct access to a large number of streaming video and music apps, including Netflix, plus Amazon's own video product is integrated into the system for direct access in dedicated tabs. The 55-inch model is available from Best Buy, including through Amazon's website, starting today; the other two models will arrive later this month.