Amazon Tipped In Multi-Year Ebook Deal With Simon & Schuster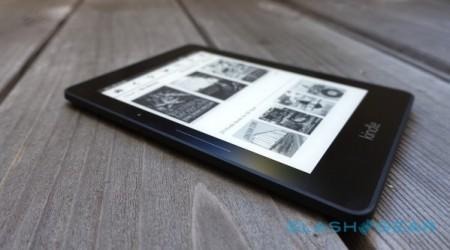 Amazon's negotiations with publishing companies don't often go smoothly (nor has it always gone smoothly with videos), something that has been demonstrated by the months of tussles between it and Hachette. At the heart of the matter are ebooks, and Amazon's desire to price them low — something it has hailed as a benefit to authors, using numbers to back up its claims. Though the battle with Hachette is still ongoing, sources have cropped up saying it has struck a deal with Simon and Schuster.
The information comes from the folks at Business Insider, who say sources familiar with the matter have spoken to them about what is going on behind Amazon's closed doors. Though it has had a rough tumble with Hachette, the negotiations with Simon & Schuster are said to have gone both smoothly and quickly.
The negotiations took only three weeks, it is being reported, with the publisher having sent Amazon its offer initially, and Amazon having sent it back with a few minor changes. That contact was apparently accepted, and will cover multiple years. The contract was finalized two months before the current one had expired.
There's no word on the Hachette spat, however, which seems to be in for the long haul. The new contract with Simon & Schuster is said to span both print and digital content, ensuring the ebooks readers want will be available to go along with the company's new Kindle readers, including the high-end Kindle Voyage (check out our review).
SOURCE: Business Insider