Amazon testing tablet-optimized website redesign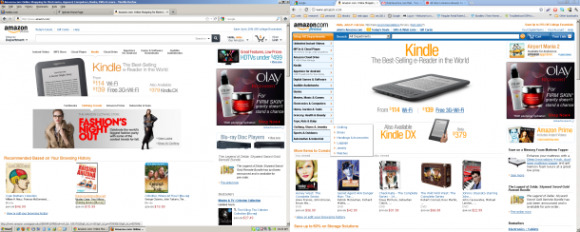 Amazon's website may soon be getting a complete face lift. The site seems to have been around for ages, but has remained relatively the same. That's about to change, as the company has admitted that it is currently testing a redesign to bring a more updated look to its marketplace. Many believe that the new layout is designed to make navigating the site on a tablet easier, signaling that Amazon's rumored first tablet is indeed fast approaching.
The current Amazon.com design is a dash of blue, some orange, light blue, and generally filled up with all sorts of things in every square pixel. A screenshot of the new design shows that the company will be pairing down the color scheme to simple gray tones, while throwing in lots more white space. It looks almost too bland and sophisticated when compared to the Amazon we're used to.
The screenshots were first leaked about a week ago, but Amazon has finally confirmed today with the WSJ, that there is indeed a new revamped site coming soon. Some customers may already see the new design, but not everyone will. An Amazon rep says that the company will continue to roll out the new design to additional customers, but doesn't have a precise date on when the new site would go live for everyone.
[via CNET]