Amazon's 7-inch Kindle Tablet gets handled, priced at $250 for November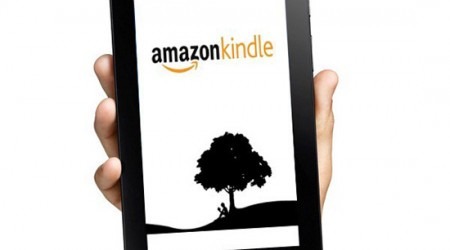 One of the two long-rumored Amazon tablets has been shown to TechCrunch for some hands-on time under the condition that no photos be revealed. This is the first time we've gotten more concrete details and specs on what the first Amazon tablet has to offer. Unfortunately, it's sounding much less like an iPad-killer and more like a super-charged Kindle ready to take on the Nook Color.
(Pictured above is a mockup, not the real thing.)
TechCrunch's MG Siegler exclaims that the Amazon tablet is very real, he's seen it and he's played with it. Not allowed to show photos of the tablet, Siegler is left to describing the device as best he can and he's happily reporting it as a "big deal" with huge potential. The device he got to handle was the rumored "Coyote" 7-inch model and he confirms that is now set to launch by the end of November. The larger "Hollywood" 10-inch version has been delayed for release in 2012 hinging on the popularity of this first model.
Siegler describes the form-factor as being similar to the 7-inch BlackBerry PlayBook. The device features a full color backlit capacitive touchscreen display. Somewhat disappointing though, is that it doesn't look to be a full 10-finger multitouch panel but instead is relies on two-finger touch. There's also no integration of E Ink technology as originally thought could be used in some hybrid implementation.
The tablet's interface also appears completely customized, showing no signs of Android. It's black and dark blue with lots of orange thrown in and features a carousel similar to the iTunes Cover Flow interface. This screen displays all the content on the device, including books, apps, movies, and more. In portrait orientation there's a shortcut dock at the bottom of the screen, but this disappears below the fold once the tablet is oriented horizontally.
Amazon's Android Appstore, Cloud Player, Instant Video service and Kindle app are all deeply integrated, but Google's Android Market is nowhere to be found. There are also no Google apps or other Android apps. Siegler says that from what he understands, the Kindle OS is built on top of an Android version prior to 2.2, meaning little chance for Honeycomb or Ice Cream Sandwich. "They are not working with Google on this. At all."
This is sounding more and more disastrous to us as Siegler continues despite his earlier positivity. The details on the hardware also don't help as it's expected to run on a single-core chip with only 6GB of internal storage and no cameras.
And as for pricing? The rumors of the tablet being "hundreds less" than the iPad 2 turn out to be correct, but the tablet is still priced at $250. And that's hundreds less for a tablet that appears to also be offering much much less. It certainly isn't planning to compete with the iPad 2 and is now looking to take on the Nook Color. But will there be enough reasons for consumers wanting the Nook Color to ditch it for the Amazon tablet and will it be good enough to entice consumers from the Android tablet market seeking a budget alternative? Perhaps, if it can get rooted with some proper Android instead of a pre-2.2 build.
What do you guys think?