Amazon Prime subscription priced at $72 today only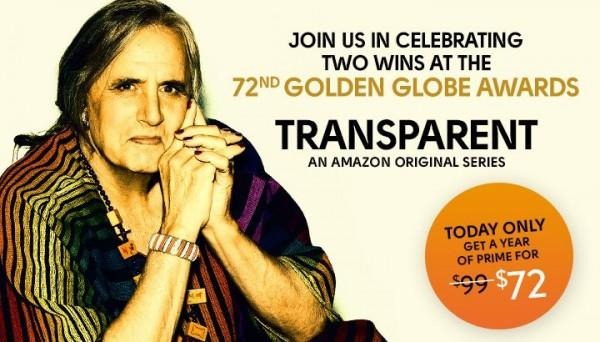 We may receive a commission on purchases made from links.
In honor of the Golden Globes Awards marking their 72nd year, and original series Transparent earning two wins, Amazon is offering a one-year membership to its Prime service for only $72, down from the usual $99. The only catch is that is that the sale is for today, Saturday, January 24th, only. Previous to this promotion, Amazon has rarely offered Prime at discount prices, unless it comes bundled with other Amazon purchases, so it's a great deal if you've been on the fence about becoming a member. Read on to find out how existing Prime members can still take advantage of the deal!
The $72 Prime subscription includes all the bonuses that are normally available, including free 2-day shipping on all Amazon orders; access to Prime Instant Video, which includes movies and TV shows; unlimited cloud storage for photos; access to Prime Music for ad-free music streaming; and access to free e-books through the Kindle Lending Library. For customers who join Prime through this promotion, their subscription will continue after the first year at the regular price of $99 per year.
So, if you're already subscribed to Amazon Prime and still want to score a $27 discount on a year of service, here's what you need to do: purchase a subscription as a gift, and simply put your own email as the recipient. The only caveat is that you'll need to turn off the auto-new renew on your current subscription and wait until it expires before applying the gift code.
As part of the promotion, Amazon is also bringing attention to its new original series Transparent, which stars Jeffrey Tambor as Maura, who has begun embracing her new identity after living as Mort. The show won two Golden Globes earlier this month, and all 10 episodes will be available to stream for free on Saturday the 24th (today), regardless of being a Prime member or not.
SOURCE Amazon