New Kindle Oasis (2017) adds big screen and waterproofing, cuts price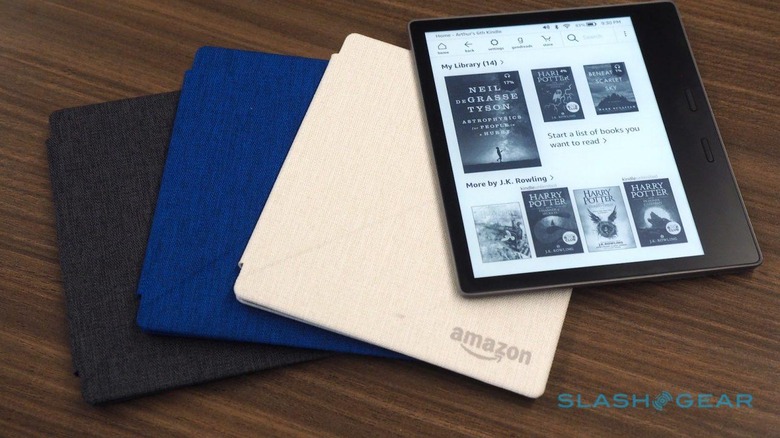 Amazon's Kindle Oasis has had a reboot, boosting screen size, adding audiobook support, and gaining waterproofing, all while cutting the price. The new Kindle Oasis 2017 keeps the asymmetric form-factor of its predecessor but does away with that model's removable battery cover. Instead, Amazon has managed to squeeze sufficient power into just the slender ereader itself.
On the front, there's now a 7-inch Paperwhite e-paper display, rather than the 6-inch of before. It's a 300 ppi panel, 30-percent larger than the old model, which Amazon says adds up to fewer page turns. More importantly it's faster, down to both hardware and software improvements.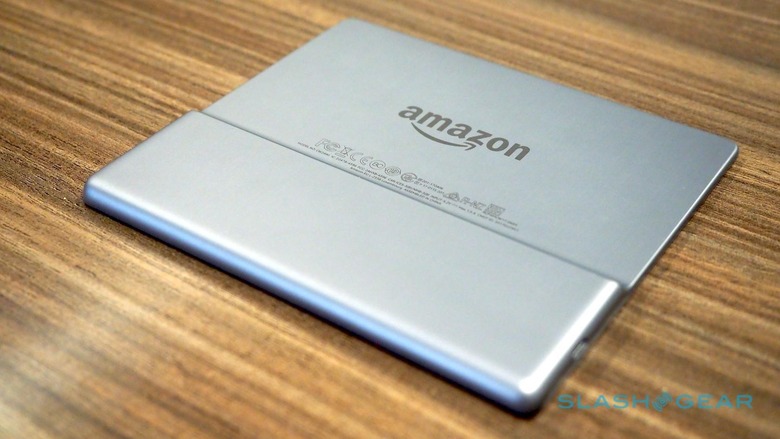 As I found when I tried the new Kindle Oasis out myself, page turns are significantly swifter than we've seen on previous Kindle models. Screen rotation has also had a noticeable boost, when you flip the ereader around. You still get two physical page-turn buttons alongside the display, or alternatively you can just tap the touchscreen.
That screen has gained two extra LEDs for the display lighting, which should make it more even and consistent across the full extent of the display; there's also now an ambient light sensor, for automatically adjusting the lighting levels. Amazon has added six extra font size levels, meanwhile, in addition to five levels of boldness. There's also support for flipping things so that you get white text on a black background.
It's all wrapped up in a new, graphite aluminum chassis. The shape is smoother than on the old Oasis, while the weight comes in at 194 grams; it's nicely balanced to sit in your hand. The thinnest point tapers to 3.4mm.
That aluminum body is now IPX8 rated, which means the new Kindle Oasis can handle immersion for up to sixty minutes in up to two meters of fresh water. Amazon, I'm told, has also tested it in bath tub and pool water, along with sea water, just to make sure it's holiday-ready.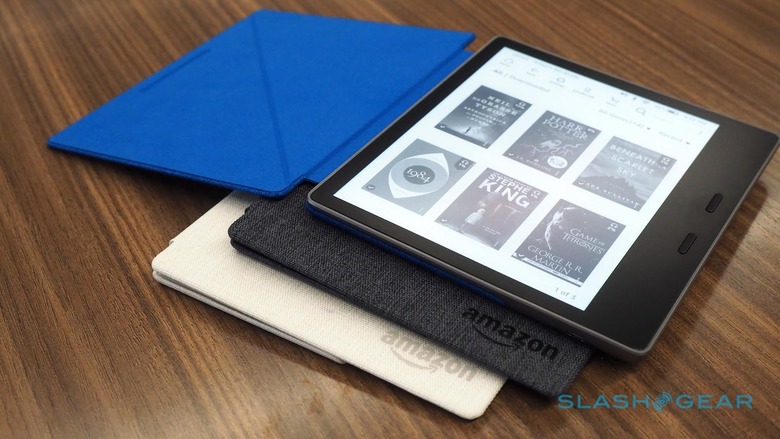 The battery is now totally self-contained, rather than being split between Kindle and case. How long it will last will obviously depend on how much you read and how much you use the lighting, but Amazon is quoting up to six weeks. Courtesy of fast-charging, you can recharge the whole thing in just two hours.
Audible audiobook support has also, finally, arrived. You'll need Bluetooth headphones or speakers – Amazon won't be including any in the box – while if you pair the new Kindle Oasis with your car's Bluetooth you'll be able to control playback and such with the vehicle's buttons. Audiobooks show up in the ebook gallery with a headphone icon appended, and once opened you can tap to switch between the text and audio versions (the Kindle Oasis remembers which you were using last, and re-opens it in that state).
There's speed control, to slow or speed up the rate of the narrator, while Whispersync keeps track of where you're up to across any Kindle or Kindle app you might be using.
With no battery case, Amazon has taken the liberty to roll out a few new options. There are three leather options, each of which cling to the back of the ereader magnetically and fold into a stand: they're offered in Midnight, Saddle Tan, or Merlot. More appealing to my eyes are the water-safe fabric covers, though, in tactile Indigo, Sandstone, or charcoal.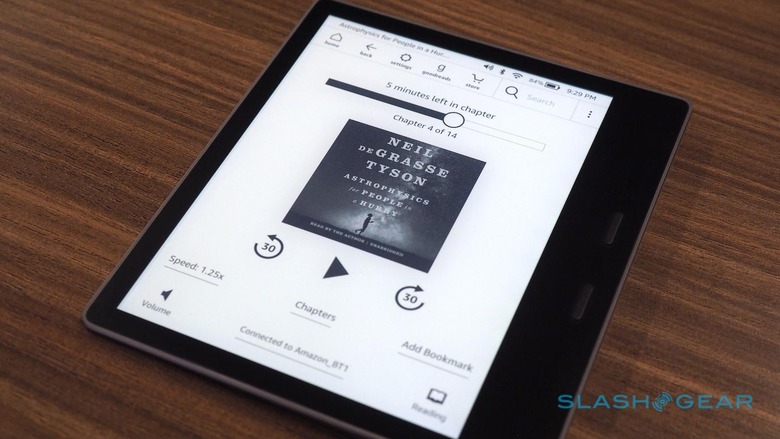 Arguably most impressive is the price. The original Kindle Oasis was most definitely targeted at the well-heeled reader, starting at $359.99. The new Kindle Oasis, in contrast, starts at $249.99.
That gets you WiFi connectivity and 8GB of storage. There's a 32GB model too, for those wanting more space for audiobooks, priced at $279.99. Finally, a Kindle Oasis LTE comes in at $349.99, also with 32GB of storage and no fees for the cellular service.
As for the covers, the fabric versions are $44.99 apiece, while the leather are $59.99. Both they and the Oasis itself are up for pre-order today, and will ship on October 31.