Amazon MP3 store now available on iPhone and iPod Touch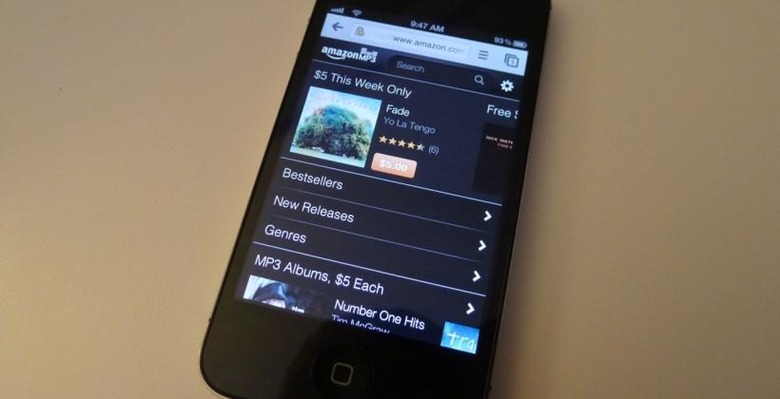 If you prefer buying your music through Amazon's own offerings instead of iTunes on your iPhone or iPod Touch, you're in luck. Today Amazon announced that its MP3 store is now available on the iPhone and iPod Touch. However, the service isn't in app form like on Android, but rather through your mobile web browser.
This marks the first time ever that iPhone and iPod Touch users can buy music from Amazon's 22 million song catalog directly on their mobile device. However, Amazon only mentions the built-in Safari web browser as far as support goes, but we tried it on the Chrome browser and it seems to be working just fine.
Amazon says its iOS web store utilizes HTML5 and offers customers quite a bit of features and conveniences, including personalized recommendations, best-seller lists, and customer ratings. Plus, you'll have access to all the awesome deals that Amazon makes available, including $5 albums and $0.69 songs.
When buying music from your iOS device, purchases are automatically saved to Amazon's Cloud Player and can then be downloaded or played instantly from your iPhone or iPod Touch, as well as the iPad, Kindle Fire, Roku, Sonos, any Android phone or tablet, or any web browser. So, while the Amazon MP3 web store on iOS isn't as fluid as the dedicated app that's currently available on Android, it's certainly better than nothing.