Amazon Kindle Hitting Target Shelves Starting April 25th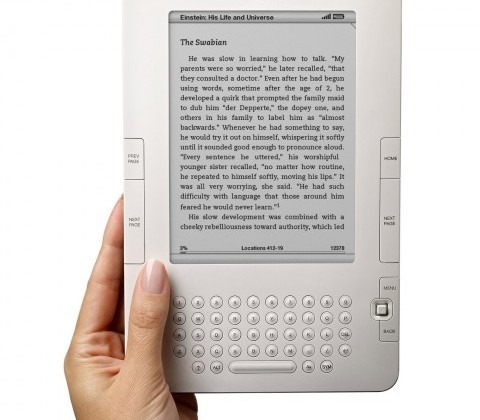 After we heard grumblings about the eReader from Amazon slinking away from the digital store shelves and finally seeing some brick-and-mortar aisles, it's finally coming true. There's a big caveat to the whole "April 25th" thing, though, and unless you're in Minneapolis, it may sadden you a bit. But, don't be too dismayed, as there's always a silver lining.
Right now, as you're more than aware, the Kindle is only sold on Amazon's digital marketplace, and it's there that the eReader made a huge impact for the online retailer. The Kindle is still the number one bestselling item, along with the most wished for, and most gifted item. And since Target is the first brick-and-mortar establishment to sell the Kindle, they're doing something special for it: Target's flagship store in downtown Minneapolis, and its 102 South Florida stores, starting on April 25th. That's what we had heard before, but we had imagined it would have been a national roll-out.
That silver lining we mentioned above, details that Target will begin to roll out the Kindle in more stores later in the year. No exact time frame, but at least it's happening at all. The Kindle will still retail for $259 at Target stores, just as it does online, so there won't be any kind of discount. But, at least you'll be able to touch the e-ink display, and hold the light device in your grip before you decide to buy. Full press release below.
Target(R) Stores to Sell Kindle, Amazon's Revolutionary Wireless Reading Device

Kindle Available in Select Target Stores April 25

MINNEAPOLIS, Apr 21, 2010 (BUSINESS WIRE) — Target Corporation today announced that Target is bringing Kindle, Amazon's most wished for, most gifted and #1 bestselling product, to Target guests. As the first brick-and-mortar retailer to carry Amazon's Kindle, Target will make Kindle available at its flagship downtown Minneapolis store and 102 south Florida stores beginning April 25, rolling out to more Target stores later this year.

Kindle is Amazon's purpose-built reading device that wirelessly downloads books, magazines, newspapers, blogs, and personal documents to a crisp, high resolution electronic paper display that looks and reads like real paper. Kindle fits comfortably in one hand for hours, has an e-ink display that is easy on the eyes even in bright daylight, two weeks of battery life, and 3G wireless with no monthly fees. Customers can read and sync their Kindle books on iPhones, iPod touches, PCs, BlackBerrys, Macs, and iPads. These features, paired with the massive selection of over 500,000 books available in the Kindle Store, have made Kindle the bestselling product across the millions of items available at Amazon.com.

Kindle, which will retail for $259, has been available for purchase on Amazon.com exclusively, but now Target guests can see and touch the e-reader before they buy. Giving Target guests the opportunity to experience a Kindle before they buy is in keeping with Target's commitment to providing quality products and a best-in-class shopping experience.

"We're excited to be working with Amazon to help even more readers discover Kindle, in-store only at Target," said Mark Schindele, senior vice president, Target. "We strive to enhance our product offerings to include surprising products and services at great values so we're proud to be the first brick-and-mortar retailer to sell Kindle, allowing our guests to feel how lightweight and easy on the eyes Kindle is."

"Target's reputation for excellence and value makes it the perfect fit for Kindle," said Steve Kessel, senior vice president, Amazon Kindle. "We're excited to work with them to bring readers around the country a new way to discover and buy Kindle, and with it, wireless access to a massive selection of over 500,000 books."

About Target

Minneapolis-based Target Corporation /quotes/comstock/13*!tgt/quotes/nls/tgt (TGT 56.81, -0.12, -0.21%) serves guests at 1,740 stores in 49 states nationwide and at Target.com. Target is committed to providing a fun and convenient shopping experience with access to unique and highly differentiated products at affordable prices. Since 1946, the corporation has given 5 percent of its income through community grants and programs like Take Charge of Education. Today, that giving equals more than $3 million a week.

Amazon Forward-Looking Statements

This announcement contains forward-looking statements within the meaning of Section 27A of the Securities Act of 1933 and Section 21E of the Securities Exchange Act of 1934. Actual results may differ significantly from management's expectations. These forward-looking statements involve risks and uncertainties that include, among others, risks related to competition, management of growth, new products, services and technologies, potential fluctuations in operating results, international expansion, outcomes of legal proceedings and claims, fulfillment center optimization, seasonality, commercial agreements, acquisitions and strategic transactions, foreign exchange rates, system interruption, inventory, government regulation and taxation, payments and fraud. More information about factors that potentially could affect Amazon.com's financial results is included in Amazon.com's filings with the Securities and Exchange Commission, including its most recent Annual Report on Form 10-K and subsequent filings.

Kindle devices are sold to Target Corporation through Amazon Fulfillment Services, Inc. or its affiliates.