Amazon Kindle Gets Scrabble as First Third-Party Paid App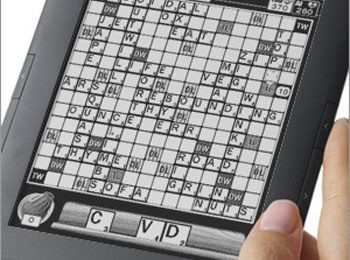 Amazon's Kindle software just got updated on the Android platform, bringing with it plenty of new features, and now the hardware version is getting something special, too: it's first paid app from a third-party publisher. It comes from EA, and it's something you might have heard of before. A little thing called Scrabble. The application is available right now for the third and second generation Kindles, as well as all generations of the Kindle DX.
But, if you were expecting to play some online multiplayer with your other Kindle owners, courtesy of that 3G or WiFi connectivity, unfortunately the game doesn't support it. It does support on-device multiplayer, though. While other applications have popped up for the Kindles since Amazon released the app platform, the majority of them have been free, and first-party applications. Some of them have even been built into the firmware.
Unfortunately for the Kindle, it's next to impossible to make any fast-paced actions games for the platform, thanks to the e-paper display and its slower refresh rates, as well as the processor under the hood. But, if Scrabble is something you've been waiting for, then you can get your hands on it right now for $5.
[via iReader Review]