Amazon Kindle DX Graphite Offers 50% More Contrast For $379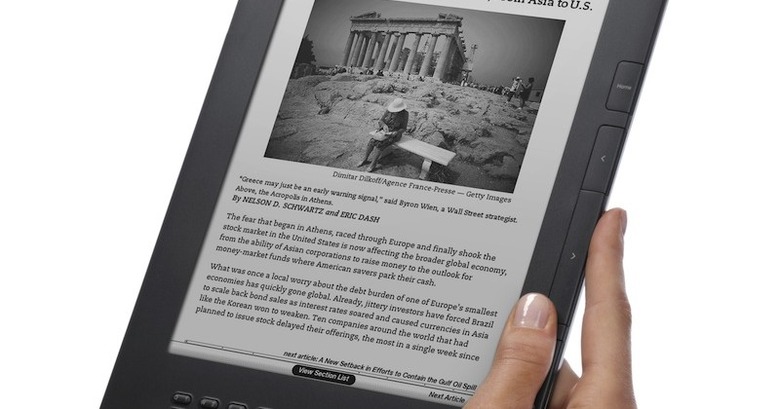 We may receive a commission on purchases made from links.
After the price-spat with Barnes & Noble saw Amazon's Kindle drop to just $189, the larger Kindle DX was beginning to look a tad ridiculous up at $489.  Now Amazon have unveiled an updated Kindle DX, with a lower $379 sticker price and a 9.7-inch E Ink display that, they claim, offers 50-percent better contrast than its first-gen predecessor.
The casing has now flipped from white to graphite, but otherwise the DX is the same as before.  That means integrated 3G wireless – which can be used internationally – for downloading ebooks, magazines and periodicals, a full QWERTY keyboard, storage for up to 3,500 documents and battery life of up to a week with wireless on and double that with it turned off.
Of course, at 10.4 x 7.2 x 0.38 inches it's still a sizeable beast, and the market is probably smaller than for the regular Kindle.  The new Amazon Kindle DX is available for preorder now, priced at $379, with deliveries expected to kick off from July 7th 2010.
Press Release:
Amazon Introduces New Kindle DX with 50 Percent Better Display Contrast and New Lower Price of $379

Amazon's latest generation large screen portable reader features all new, high contrast e-ink screen for the clearest text and sharpest images

SEATTLE—July 1, 2010—Amazon.com, Inc. (NASDAQ: AMZN) today introduced the new latest generation Kindle DX and new lower price of $379, down from $489, and still with free 3G wireless—no monthly bills or annual contracts. Kindle DX is the 9.7-inch large screen member of Amazon's family of revolutionary portable readers. The new Kindle DX features a new graphite enclosure and an all new, high contrast electronic ink display with 50 percent better contrast for the clearest text and sharpest images. The new Kindle DX is available for pre-order starting today at www.amazon.com/kindledx and it ships July 7.

"There's no turning back once you read on our beautiful new Kindle DX screen," said Steve Kessel, senior vice president, Amazon Kindle. "With 50 percent better contrast and darker fonts, you'll find it easier than ever to read wherever you happen to be, whether it's outside in bright sunlight or under the low light of your living room. We're excited to offer the new Kindle DX with free 3G wireless at the lower price of $379."

The Kindle Store (www.amazon.com/kindlestore) now has more than 620,000 books, including New Releases and 108 of 111 New York Times bestsellers, starting at $9.99 or less. More than 200,000 books have been added to the U.S. Kindle Store in just the last six months, including the full selection of John Grisham titles. Over 1.8 million free, out-of-copyright, pre-1923 books are also available to read on Kindle, including classics such as "The Adventures of Sherlock Holmes," "Pride and Prejudice" and "Treasure Island."

All New, High Contrast E-ink Screen: The new, graphite Kindle DX uses Amazon's all new electronic ink display with 50 percent improved contrast for the clearest text and the sharpest images.

Beautiful Large Display: Kindle DX's 9.7-inch diagonal e-ink screen is ideal for a broad range of reading material, including graphic-rich books, PDFs, newspapers, magazines, and blogs.

Read in Sunlight with No Glare: Unlike backlit computer or LCD screens, Kindle DX's screen looks and reads like real paper, with no glare. Read as easily in bright sunlight as in the living room.

Buy Books Once, Read Them Anywhere: Kindle books can be read on the devices people use every day, including Kindle, Kindle DX, PC, Mac, iPad, iPhone, Android phone, and BlackBerry. Plus, Amazon's Whispersync technology also automatically saves and synchronizes customer book libraries and last page read across all these devices.

Free 3G Wireless, No Monthly Bills or Annual Contracts: Shop the Kindle Store and download new content wirelessly in less than 60 seconds—all without a PC, Wi-Fi hot spot, or syncing. Amazon pays for the 3G wireless connectivity, so there are no monthly fees or annual contracts.

Books In Under 60 Seconds: Kindle books are delivered wirelessly in less than 60 seconds, no PC or setup required.

Global 3G Coverage: Kindle DX offers 3G wireless coverage at home or abroad in over 100 countries.

Long Battery Life: Read for up to 1 week on a single charge with wireless on or 2 weeks with wireless turned off.

Low Book Prices: New York Times Best Sellers and New Releases from $9.99.

Incredibly Slim: At just over 1/3 of an inch, Kindle DX is as thin as most magazines.

Carry Your Library: Carry up to 3,500 books, periodicals, and documents.

Free Book Samples: Download and read first chapters for free before you decide to buy.

Social Networks: New Twitter and Facebook integration enables the millions of Kindle customers to post meaningful passages and share their love of reading instantly with family and friends, and in turn, help them discover new authors, new books, and new ideas.

Built-In PDF Reader: With Kindle DX's large display and built-in PDF reader, read professional and personal documents with more complex layouts without scrolling, panning, or zooming, and without re-flowing. Zoom capability is now available in Kindle DX for easily viewing small print and detailed tables or graphics.

Auto-Rotating Screen: Read in portrait or landscape mode using Kindle DX's auto-rotating screen. Simply turn Kindle DX and immediately see full-width landscape views of maps, graphs, tables and images, all displayed in higher contrast on Kindle DX's new screen.

Read-to-Me: With the text-to-speech feature, Kindle DX can read newspapers, magazines, blogs, and books out loud.

Customers can discover full details and pre-order the new Kindle DX for $379 today at www.amazon.com/kindledx and it will begin shipping on July 7.

About Amazon.com

Amazon.com, Inc. (NASDAQ: AMZN), a Fortune 500 company based in Seattle, opened on the World Wide Web in July 1995 and today offers Earth's Biggest Selection. Amazon.com, Inc. seeks to be Earth's most customer-centric company, where customers can find and discover anything they might want to buy online, and endeavors to offer its customers the lowest possible prices. Amazon.com and other sellers offer millions of unique new, refurbished and used items in categories such as Books; Movies, Music & Games; Digital Downloads; Electronics & Computers; Home & Garden; Toys, Kids & Baby; Grocery; Apparel, Shoes & Jewelry; Health & Beauty; Sports & Outdoors; and Tools, Auto & Industrial. Amazon Web Services provides Amazon's developer customers with access to in-the-cloud infrastructure services based on Amazon's own back-end technology platform, which developers can use to enable virtually any type of business. Kindle and Kindle DX are the revolutionary portable readers that wirelessly download books, magazines, newspapers, blogs and personal documents to a crisp, high-resolution electronic ink display that looks and reads like real paper. Kindle and Kindle DX utilize the same 3G wireless technology as advanced cell phones, so users never need to hunt for a Wi-Fi hotspot. Kindle is the #1 bestselling product across the millions of items sold on Amazon.